MSEA Members Work to Strengthen Maine Maritime Academy
Andy O'Brien
26 Jan, 2023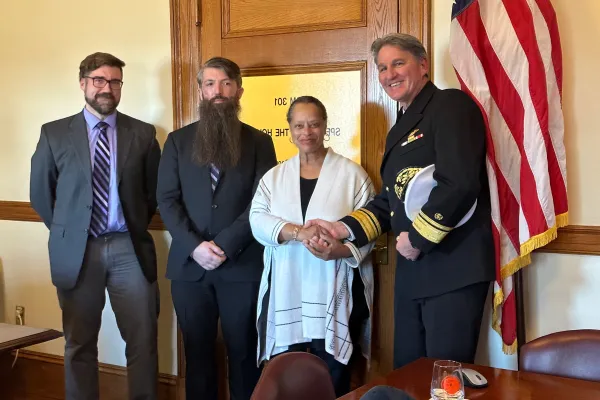 As the Maine Legislature's Appropriations Committee begins crafting a biennial budget this week, members of the Maine Service Employees Association (MSEA-SEIU) at Maine Maritime Academy (MMA) are working with the school's administration to push lawmakers to strengthen the school's mission by improving wages for faculty and staff.
Founded in 1941 through state legislation, MMA prepares students for careers in engineering, science and maritime transportation. Many former MMA students go on to become members of the American Maritime Officers (AMO), Master Mates and Pilots (MM&P), Seafarers International Union and other maritime unions.
However, while the Academy has been successful in training young Mainers for high-paying jobs, the academy has struggled in recent years to attract qualified faculty, particularly in its engineering department, because the pay isn't competitive enough. According to mathematics Professor Jake Simmons (MSEA-SEIU 1989), the Academy has traditionally recruited older maritime workers who are nearing retirement and interested in working shoreside. Unfortunately that pool of applicants is getting harder to attract due to complications related to the pandemic and other factors. As a result, Maine Maritime Academy has become short-staffed.
"We went to the MMA administration in the last round of negotiations and asked for both higher salaries and for more positions, but the administration informed us that the money wasn't there," said Simmons. "After looking at the budget numbers we realized they were right, so we offered to lobby the Legislature with them for more funding."
Currently, MMA only receives roughly 22 percent of its funding from the state, approximately half of the percentage allocation that Maine's universities and other maritime academies receive in state funding.
MMA employees and other MSEA members are also lobbying Governor Mills and legislators to close the state employee pay gap and fully fund cost-of-living increases for public employee retiree pensions to match inflation. Simmons said the three MSEA units at MMA — staff, supervisors and faculty — have unified and are all that much stronger with the power of MSEA's 13,000 members standing with them.
"We realized that if we didn't handle the situation with more resources together, then it was going to be a situation where some of us win and some of us lose," he said. "We are trying to provide a unified labor front for Maine Maritime and I do think that having that component was really helpful in establishing our usefulness as an ally with the administration."