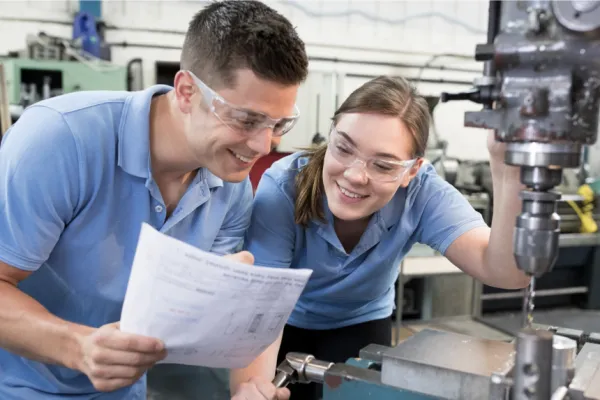 The Maine AFL-CIO seeks a dynamic and passionate Apprenticeship, Workforce & Equity Director to strengthen and promote union registered apprenticeship programs, directly connect workers of color, immigrants, women and others with registered apprenticeships and union jobs, coordinate an equity-focused construction pre-apprenticeship program and lead the Maine AFL-CIO's workforce development work.
Overview of Job Responsibilities
The Maine AFL-CIO Apprenticeship, Workforce & Equity Director will coordinate a union pre-apprenticeship program, promote union registered apprenticeship programs, increase access to union apprenticeships and job opportunities for all workers and lead our workforce development work. The Director will be responsible for internal and external outreach, developing apprenticeship promotion strategies, coordinating program, supporting fundraising and developing worker's leadership. 
Description of Duties
Build strong relationships with union registered apprenticeship programs and develop strategies to support and strengthen these programs.
Build deep relationships with community-based organizations representing people of color, immigrant workers, women, justice involved individuals and others; work to connect these organizations and their members with union apprenticeship programs.
Work in partnership with the Maine Building and Construction Trades Council, the New England Laborers' Training Academy and others to coordinate an equity focused pre-apprenticeship program designed to offer workers a direct path into union apprenticeship programs. We will offer six 5 – 6 week equity focused pre-apprenticeship classes in 2023 and 2024. The Director would coordinate recruitment and outreach, help manage logistics and support the education and training components. The Director is not responsible for developing and implementing the core training curriculum.  
Develop communications strategies to spread the word about union apprenticeship programs and union jobs much more widely.
Work with other unions and unionized employers to support the creation of new union registered apprenticeship programs in Maine.
Support fundraising efforts to make this a permanent position and a permanent pre-apprenticeship program.
Develop the leadership of registered apprentices and other workers and bring them into the broader work we are doing.
Rigorous tracking and entering of data.
Work together with Maine AFL-CIO staff on aspects of organizational development,  organizational campaigns, conventions, special projects, trainings and meetings.
Qualifications and Skills
2- 3 years organizing experience working with workers and unions, community and immigrant organizations.  
Direct experience with registered apprenticeship programs or workforce training programs is encouraged.
Popular education experience running participatory educational programs or trainings; experience developing and refining training curriculums for working people.
Strong one on one relational organizing skills; ability to build trusting relationships.
Demonstrated ability to build teams and work effectively in a team environment in both a lead and a support role.
Commitment to building the labor movement and social, economic and racial justice.
Ability to work independently within the context of a plan.  Effective time management skills, including prioritizing and managing multiple tasks, and demonstrated experience in developing personal work plans and goals. 
Computer proficiency is required:  Database/spreadsheet, email, internet, word processing, social media platforms, etc.
Ability to travel.
Job Details:
The Apprenticeship, Workforce and Equity Director works under the direct supervision of the Maine AFL-CIO Executive Director and works in close collaboration with the Maine AFL-CIO Peer Workforce Navigator and the Maine AFL-CIO staff.
How To Apply:
This is a grant funded position that runs through the end of 2024 with a good chance to continue.  This is a full time, union represented position.  Our office is based in Augusta, Maine. Remote work based in Maine is possible. Salary is commensurate with experience.  Salary range: $52,000 - $59,000.  We offer a very generous benefit package including a defined benefit pension (if position is extended; 3 years to be vested), 100% healthcare coverage, an HRA, 17 paid holiday/personal days and more. To apply please send a cover letter and resume to Matt Schlobohm, matt at maineaflcio dot org with Apprenticeship Director in the subject line. Applications accepted on a rolling basis.  Applicants are encouraged to apply by Wednesday  August 24.
The Maine AFL-CIO is an equal opportunity employer.
About the Maine AFL-CIO
The Maine AFL-CIO is the state's largest union organization representing the interests of some 180 labor organizations with more than 40,000 members.  We seek to improve the lives of union members and all working people – in the workplace and the community – through organizing, collective action, public policy and workforce development.