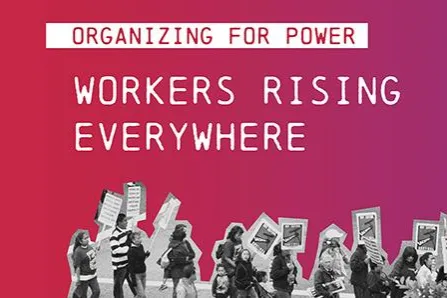 The Maine and Vermont AFL-CIOs are teaming up to strengthen organizing in our states. Learn how YOU can grow organizing strength in your union to win great contracts, build power and support new workers to join your union by taking this free Organizing for Power weekly course taking place from May to mid-June of 2022. All classes and debrief sessions take place online - training for online participation is available if you need it.Please apply as early as possible but no later than Wednesday, April 26, 2022. 
The class is taught by experienced successful organizers who have mastered these skills and won challenging campaigns. Participants will come from all over the world but in addition to the webinar format class time that everyone watches together, our group of Maine and Vermont participants will have chances to meet together in our own Zoom meeting and you will also have at least one chance to meet with organizers from other places in the world.
The fundamental skills that will be covered by explanation, demonstration, and opportunities to practice or plan include:
leader identification, or: understanding who can move people (it's often not who you first think);
semantics, or: the words we use matter – they have to center each worker's active participation as the key to winning;
structured organizing conversations, or: what it takes to recruit the hardest-to-recruit leaders;
charting, or: a simple method to understand human social relationships, and to prioritize and systematize outreach;
structure tests, or: mini-campaigns to build solidarity and site structure, and to know when you are ready to win.
These are the essential building blocks for winning campaigns. 
Download the ME-VT Organizing for Power Flier.
"Organizing for Power: The Core Fundamentals" will take place on six consecutive Tuesdays beginning May 10 and running through June 14 with a choice to participate at noon (Track A) or at 8pm (Track B). Each class runs for two hours and the same material is covered in both tracks. 

The Maine and Vermont Team (sign up here to apply to take the class with us) will meet together once before the class starts for one hour on Tuesday, May 3 to prepare. After that, we will meet weekly on Thursdays during the class, and once after the class. While these extra sessions are optional, we highly encourage you to make the time investment to join us to review the information and apply it to your current power-building goals. 
Organizing for Power Schedule
May 3 - One-hour orientation with our group
May 10 - Class noon or 8pm (2 hours)

May 17 - Class noon or 8pm (2 hours)
May 24 - Class noon or 8pm (2 hours)
May 31 - Class noon or 8pm (2 hours)
June 7 - Class noon or 8pm (2 hours)
June 14 - Class noon or 8pm (2 hours)
Times for the Thursday debrief sessions with the local group will be set based on information from your sign-up forms but in the past the options of noon or 7pm have worked best for the majority of the group.
For more information go to theapplication pageor contact Cynthia Phinney Cynthia at Maine AFL-CIO dot org or 207-491-9928.