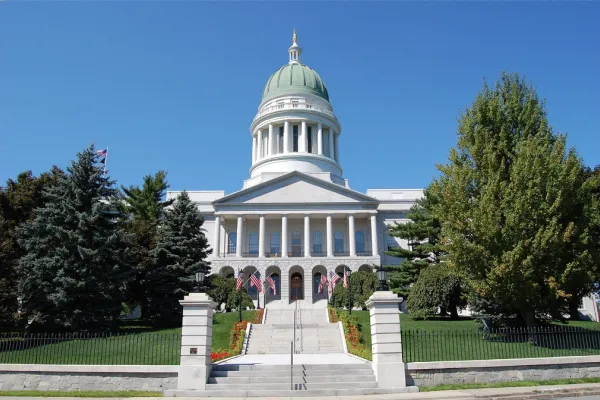 "There's a direct relationship between the ballot box and the bread box, and what the union fights for and wins at the bargaining table can be taken away in the legislative halls" – Walter Reuther
Every election year, we send a survey to each candidate asking where they stand on key labor priorities, including collective bargaining rights, the minimum wage, health care, labor standards, economic security, workplace safety, racial justice and more.
The responses we receive are then evaluated by union members on our Political Committee, which then sends a list of endorsement recommendations to our Executive Board. After the E-Board evaluates the list, it votes on the slate and sends the recommendations to our COPE Convention where delegates from the 180 unions in our labor federation vote on the list of endorsement recommendations. If you have questions about endorsements, please email Adam at MaineAFLCIO dot com
The members of the Maine AFL-CIO have voted on the following endorsements for the upcoming 2022 elections.  We endorse these candidates as the best choice for working families. 
Gubernatorial Race:  Maine AFL-CIO Endorses Governor Janet Mills for reelection (Click here to learn why we believe Governor Mills is the best candidate in this race!)
Maine Congressional District #1: Maine AFL-CIO Endorses Rep. Chellie Pingree for reelection
Maine Congressional District #2: Maine AFL-CIO Endorses Congress Jared Golden for reelection.
Maine Legislature:
| | | | |
| --- | --- | --- | --- |
| Maine Senate District 1 | Troy | Jackson | Allagash |
| Maine Senate District 2 | Shawn | Bean | Madison |
| Maine Senate District 5 | Stan | Wheeler | Farmington |
| Maine Senate District 7 | Nicole | Grohowski | Ellsworth |
| Maine Senate District 8 | Mike  | Tipping | Orono |
| Maine Senate District 9 | Joe | Baldacci | Bangor |
| Maine Senate District 10 | Ralph | Cammack | Brewer |
| Maine Senate District 11 | Chip  | Curry | Belfast |
| Maine Senate District 12 | Pinny | Beebe-Center | Rockland |
| Maine Senate District 13 | Cameron | Reny | Round Pond |
| Maine Senate District 14 | Craig | Hickman | Winthrop |
| Maine Senate District 15 | Storme | St. Valle | Augusta |
| Maine Senate District 16 | David | LaFountain | Winslow |
| Maine Senate District 20 | Bettyann | Sheets | Auburn |
| Maine Senate District 21 | Peggy | Rotundo | Lewiston |
| Maine Senate District 22 | Michael | McKinney | Cornish |
| Maine Senate District 23 | Mattie | Daughtry | Brunswick |
| Maine Senate District 24 | Eloise | Vitelli | Arrowsic |
| Maine Senate District 25 | Teresa | Pierce | Falmouth |
| Maine Senate District 26 | Tim | Nangle | Windham |
| Maine Senate District 27 | Jill | Duson | Portland |
| Maine Senate District 28 | Ben | Chipman | Portland |
| Maine Senate District 28 | Ben | Chipman | Windham |
| Maine Senate District 27 | Benjamin | Chipman | Portland |
| Maine Senate District 29 | Anne | Carney | Cape Elizabeth |
| Maine Senate District 30 | Stacy | Brenner | Scarborough |
| Maine Senate District 31 | Donna | Bailey | Saco |
| Maine Senate District 32 | Henry | Ingwerson | Arundle |
|   |   |   |   |
| Maine House of Representatives, District 1 | Toby  | Jandreau | Fort Kent |
| Maine House of Representatives, District 2 | Bernard | Paradis | Cross Lake |
| Maine House of Representatives, District 3 | David | McCrea | Fort Fairfield |
| Maine House of Representatives, District 4 | Jordyn  | Rossignol | Caribou |
| Maine House of Representatives, District 5 | Kevin | Freeman | Presque Isle |
| Maine House of Representatives, District 8 | Kevin | Ritchie | Lee |
| Maine House of Representatives, District 10 | Melissa | Hinerman | Machiasport |
| Maine House of Representatives, District 11 | Skip | Rogers | Jonesport |
| Maine House of Representatives, District 14 | Lynne  | Williams | Bar Harbor |
| Maine House of Representatives, District 15 | Holly | Eaton | Deer Isle |
| Maine House of Representatives, District 16 | Nina | Milliken | Blue Hill |
| Maine House of Representatives, District 18 | Tim | Throckmorton | Dedham |
| Maine House of Representatives, District 20 | Kevin | O'Connell | Brewer |
| Maine House of Representatives, District 21 | Barbara | Cardone | Bangor |
| Maine House of Representatives, District 22 | Laura | Supica | Bangor |
| Maine House of Representatives, District 23 | Amy | Roeder | Bangor |
| Maine House of Representatives, District 25 | Lauri | Osher | Orono |
| Maine House of Representatives, District 26 | Jim | Dill | Old Town |
| Maine House of Representatives, District 28 | Natalie | DiPentino | West Enfield |
| Maine House of Representatives, District 29 | Laurie | York | East Millinocket |
| Maine House of Representatives, District 31 | Richard  | Evans | Dover-Foxcroft |
| Maine House of Representatives, District 34 | Frank | Roma | Glenburn |
| Maine House of Representatives, District 36 | Kristen | Card | Hampden |
| Maine House of Representatives, District 37 | Maggie | English-Flanagan | Winterport |
| Maine House of Representatives, District 38 | Robyn | Stanicki | Unity |
| Maine House of Representatives, District 39 | Jan | Dodge | Belfast |
| Maine House of Representatives, District 40 | Paige | Zeigler | Montville |
| Maine House of Representatives, District 41 | Vicki | Doudera | Camden |
| Maine House of Representatives, District 42 | Valli | Geiger | Rockland |
| Maine House of Representatives, District 43 | Ann | Matlack | Spruce Head |
| Maine House of Representatives, District 44 | Bill  | Pluecker | Warren |
| Maine House of Representatives, District 45 | Clint | Collamore | Waldoboro |
| Maine House of Representatives, District 47 | Evan | Goodkowsky | Wiscasset |
| Maine House of Representatives, District 49 | Alison | Hepler | Woolwich |
| Maine House of Representatives, District 50 | Sean | Paulhus | Bath |
| Maine House of Representatives, District 51 | Rebecca | Jauch | Topsham |
| Maine House of Representatives, District 54 | Karen | Montell | Gardiner |
| Maine House of Representatives, District 55 | Dan | Shagoury | Hallowell |
| Maine House of Representatives, District 56 | Kent | Ackley | Monmouth |
| Maine House of Representatives, District 57 | Tavis | Hasenfus | Readfield |
| Maine House of Representatives, District 58 | Bob | Neal | New Sharon |
| Maine House of Representatives, District 59 | Raegan | LaRochelle | Augusta |
| Maine House of Representatives, District 61 | Amy | Davidoff | Vassalboro |
| Maine House of Representatives, District 62 | Pam | Swift | Palermo |
| Maine House of Representatives, District 64 | Colleen | Madigan | Waterville |
| Maine House of Representatives, District 65 | Bruce | White | Waterville |
| Maine House of Representatives, District 66 | Alicia | Barnes | Oakland |
| Maine House of Representatives, District 67 | Bob | Sezak | Fairfield |
| Maine House of Representatives, District 68 | Stan | Short | Pittsfield |
| Maine House of Representatives, District 71 | Allison | Perkins | Cornville |
| Maine House of Representatives, District 74 | Greg | Kimber | Temple |
| Maine House of Representatives, District 76 | Tamara | Hoke | Jay |
| Maine House of Representatives, District 77 | Bonita | Bishop | Hartford |
| Maine House of Representatives, District 78 | David | Thurston | Bethel |
| Maine House of Representatives, District 81 | Dan | Sipe | Norway |
| Maine House of Representatives, District 82 | Nathan | Burnett | Hiram |
| Maine House of Representatives, District 84 | Barry | Powers | Sebago |
| Maine House of Representatives, District 85 | Christopher | Struebing | Standish |
| Maine House of Representatives, District 87 | Mary Beth | Taylor | Poland |
| Maine House of Representatives, District 89 | Adam | Lee | Auburn |
| Maine House of Representatives, District 91 | Hildie | Lipson | Wayne |
| Maine House of Representatives, District 93 | Margaret | Craven | Lewiston |
| Maine House of Representatives, District 94 | Kristen | Cloutier | Lewiston |
| Maine House of Representatives, District 95 | Mana | Abdi | Lewiston  |
| Maine House of Representatives, District 98 | Orion | Breen | Pownal |
| Maine House of Representatives, District 99 | Cheryl | Golek | Harpswell |
| Maine House of Representatives, District 100 | Dan | Ankeles | Brunswick |
| Maine House of Representatives, District 101 | Poppy | Arford | Brunswick |
| Maine House of Representatives, District 102 | Melanie | Sachs | Freeport |
| Maine House of Representatives, District 105 | Anne | Graham | North Yarmouth |
| Maine House of Representatives, District 106 | Jonathan | Priest | Windham |
| Maine House of Representatives, District 109 | Jim | Boyle | Gorham |
| Maine House of Representatives, District 110 | Steve | Moriarty | Cumberland |
| Maine House of Representatives, District 111 | Amy | Kuhn | Falmouth |
| Maine House of Representatives, District 112 | Ed | Crockett | Portland |
| Maine House of Representatives, District 116 | Sam | Zager | Portland |
| Maine House of Representatives, District 122 | Lois | Reckitt | South Portland |
| Maine House of Representatives, District 123 | Rebecca | Millett | Cape Elizabeth |
| Maine House of Representatives, District 127 | Morgan | Rielly | Westbrook  |
| Maine House of Representatives, District 128 | Suzanne | Salisbury | Westbrook  |
| Maine House of Representatives, District 129 | Maggie | O'Neil | Saco |
| Maine House of Representatives, District 131 | Lori | Gramlich | Old Orchard Beach |
| Maine House of Representatives, District 132 | Erin | Sheehan | Biddeford |
| Maine House of Representatives, District 133 | Marc | Malon | Biddeford |
| Maine House of Representatives, District 134 | Traci  | Gere | Kennebunkport |
| Maine House of Representatives, District 135 | Dan | Sayre | Kennebunk |
| Maine House of Representatives, District 137 | Bob | Faucher | Buxton |
| Maine House of Representatives, District 144 | Daniel | Norwood | Acton |
| | | | |
| --- | --- | --- | --- |
| Maine House of Representatives, District 145 | Daniel | Hobbs | Wells |
| Maine House of Representatives, District, 148 | Peg | Wheeler | Berwick |
| Maine House of Representatives, District, 149 | Tiffany | Roberts | South Berwick |
| Maine House of Representatives, District, 150 | Michele | Meyer | Eliot |
| Maine House of Representatives, District, 151 | Kristi | Mathieson | Kittery |