Diverse Cohort of New Mainers & Women from Re-Entry Programs Graduate Union Construction Academy of Maine
Andy O'Brien
26 May, 2023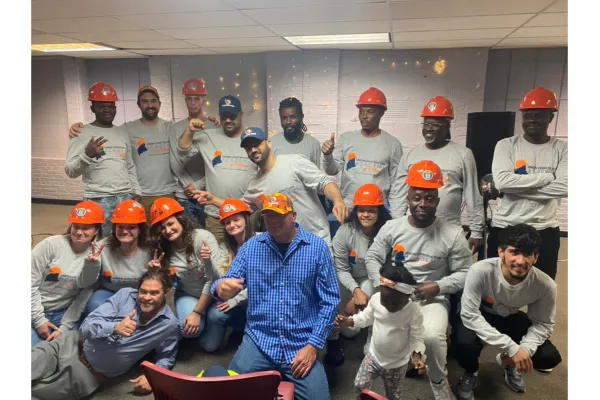 Fifteen pre-apprentices graduated as the first cohort from the Union Construction Academy of Maine (UCA) at a ceremony on Thursday with their families at Gateway Community Services in Portland. The program aims to train workers who have been historically underrepresented in building and construction trades to prepare them for union apprenticeships.
The cohort included six individuals in pre-release or re-entry programs, six asylum seekers from the Democratic Republic of Congo, Angola, and Togo, and three refugees from Afghanistan. The pre-apprentices enjoyed a cook out with their families put on by New England Laborers' Training Academy and Gateway Community Services.
"I am extremely excited about the opportunities this training experience has presented, and also very thankful for the chance to make a lifetime career," said pre-apprenticeship graduate Amy Doak." The Union has found good paying work for many of us already, which is very promising for those who will take advantage of this program in the future."
Following the four-week intensive training program, the fifteen pre-apprentices received certifications for industry recognized credentials including OSHA-10, First-Aid/CPR/AED, Asbestos awareness, Confined Space Entry, and more. These certifications will provide a foundation for success in registered apprenticeships with Building and Construction Trade Unions, and a pathway to rewarding and stable careers.
"This is a good opportunity for us," said Nazifulla Safi, who previously worked in construction in Afghanistan, told WGME Channel 13. "So I want to start from this opportunity and I want to go up. That's my goal... After I came here, I want to know about the laws, about safety, first aid."
Pre-apprentice Zameer Safi, who owned a construction company in Afghanistan, told WGME that he was grateful for the experience.
 
"We are really happy because that was a really good opportunity," Safi said. "We learned everything. For example, we physically made concrete outside."
"I appreciate all the work that has gone on behind the scenes to coordinate this training, especially the forward thinking used to bring under-respresented people this opportunity," said pre-apprentice Nicole "Coco" Lamphere. "I will forever be grateful I was able to participate in this program."
The Union Construction Academy of Maine is a registered pre-apprentice program run by the Maine AFL-CIO, Maine Building Trades Council and the New England Laborers Training Academy that is designed specifically to prepare a diverse workforce to graduate into registered apprenticeship programs as union carpenters, electricians, elevator constructors, ironworkers, insulators, laborers, millwrights, plumbers and pipefitters, sheet metal workers, and more. The program is supported through a grant from the Maine Department of Labor. It will be accepting its next cohort in June.
"Any company that gets these people are going to be happy with them,"  Joel Kubilis of the New England Laborers Training Academy, told News Center. "They're going to be an asset and it's also going to change their lives. We saw families with kids, you get goose bumps, it's going to be life changing. I know it worked for me, so it's going to work for them also."
 
For more information check out the Union Construction Academy of Maine website.