Young Machinists Turn Out for Solidarity Disc Golf Event
Andy O'Brien
08 Sep, 2023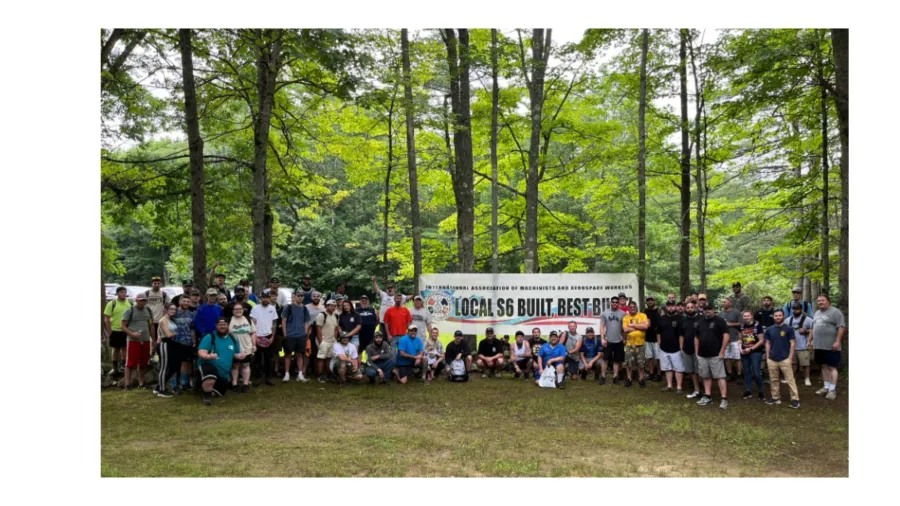 About 70 members of the International Association of Machinists and Aerospace Workers (IAMAW) Local S6 from Bath Iron Works attended the Young Machinists Committee's Solidarity Disc Golf tournament at Acker's Acres Disc Golf in Bowdoinham on July 25. Rep. Jared Golden showed up in support of the event and brought along his young daughter to enjoy the beautiful day with the Machinists.
"It was really good to get a lot of our younger members out there because we have so many younger members who have never been in a union and don't know anything about it," said Local S6 member Jason Ryder, one of the organizers of the event. "It was a great chance for our membership to connect with our leaders."
The Young Machinists Committee formed less than a year ago with the goal of orienting new members and educating them about the benefits of being part of a union and the history of the labor movement. With so many older workers retiring in recent years, about 75 percent of Local S6 members have less than five years at the shipyard.
"Our main goal is knowledge and solidarity," said Ryder. "We're trying to keep the younger membership as involved with the union as we can, giving them information about what unions have accomplished and the benefits of being in a union."
In order to build the kind of solidarity they need to have a strong union, he says it's important to hold these kinds events outside of work.
"You can pick your friends, but you can't pick your family," said Ryder. "If you can care about somebody outside the yard it's going to be a lot easier to care about them inside the yard. No matter what, you're there for your brother. You feel that connection to someone not just because you have the same person who signs your paychecks."
The Young Machinists say they've learned a lot from their first Disc Golf tournament and next year it will be even bigger and better. In the meantime, the committee is discussing other potential events to hold throughout the year including possibly horseshoe tournaments. Ryder says they are considering extending the disc golf event for an entire weekend. The committee is also considering inviting non-union workers as well, which could be a great opportunity for them to talk to union members and learn about the benefits of forming unions. The committee also plans to put out a newsletter to members that will include the history of Local S6 and workers' struggles at the shipyard.
"We need to show the history that you're not just here today. You are a legacy," said Ryder. "Not the BIW or General Dynamics legacy, it's our legacy."