Workers Discuss Organizing Victories & Challenges at Labor Day Events
Andy O'Brien
15 Sep, 2022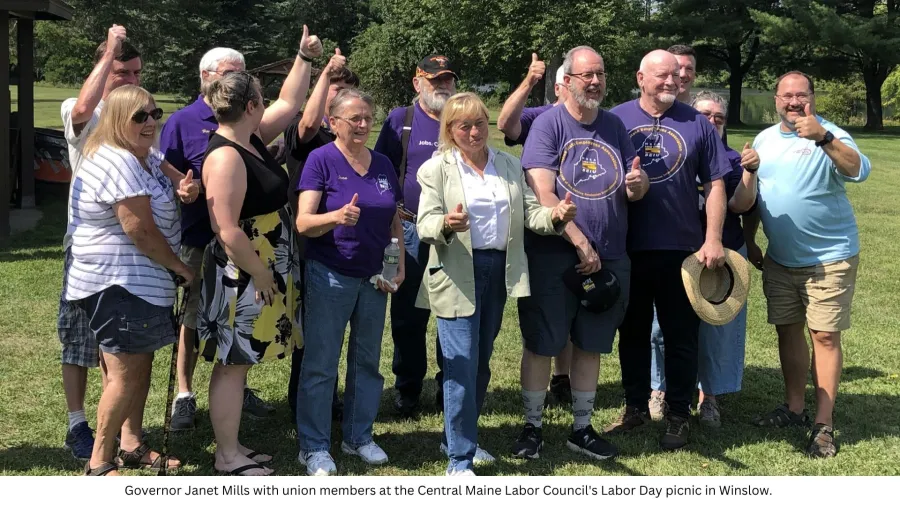 Last week, union members and friends across Maine enjoyed a Labor Day with great food and inspiring speeches at events in Portland, Winslow and Brewer, sponsored by the Southern Maine Labor Council, Central Maine Labor Council, Eastern Maine Labor Council and Food AND Medicine. 
In Winslow, members of USW 9 from the Sappi mill in Skowhegan spoke about how they fought for and won the best contract since the company bought the mill in 1995. Former Chipotle worker Brandi McNease announced the launch of the Maine Labor Alliance to help workers organize unions and generate community support for them. 
Governor Janet Mills, who attended all of the union Labor Day events this year, touted the 60 pro-labor passed during her administration, including fully funding revenue sharing and 55 percent of the cost of education as well as laws to require prevailing wages on publicly funded construction projects, repair workers' pensions, improve workers compensation for injured workers, pay equity and funding for union apprenticeships.
Maine Med Nurses received a standing ovation at the Southern Maine Labor Council breakfast. They updated the crowd on their recent resounding "recertification" vote to increase support for their union and the progress they are making towards a transformative first contract.  SMLC breakfast attendees joined a "sip-in" at the Starbucks on Middle Street to support Starbucks workers unionizing and fighting for a first contract. Senate President Troy Jackson and Governor Mills also addressed the attendees.
The Eastern Maine Labor Council celebration featured Bangor Daily News staff discussing forming their new union and being voluntarily recognized by the company in May. Bangor City Councilor Angela Okafor was presented with the Inaugural Food AND Medicine Community Solidarity Award while Maine State Nurses Association President Cokie Giles won the Sixth Annual Dan Lawson Solidarity Award. EMLC President Jack McKay also received a special surprise award. 
Other speakers included Governor Mills, Maine Department of Labor Commissioner Laura Fortman, Peer Workforce Navigator Suzy Young, and Penobscot Nation Tribal Ambassador Maulian Dana, who spoke about the strong solidarity between the labor movement and tribal members in their fight for tribal sovereignty.
Maine AFL-CIO President Cynthia Phinney reported that while it was a bit soggy outside the Solidarity Center in Brewer, there was a strong spirit of solidarity that day.