Workers Back Bill to Lower Child Care Costs for Workers, Increase Access to Childcare and Raise Wages
Andy O'Brien
19 May, 2023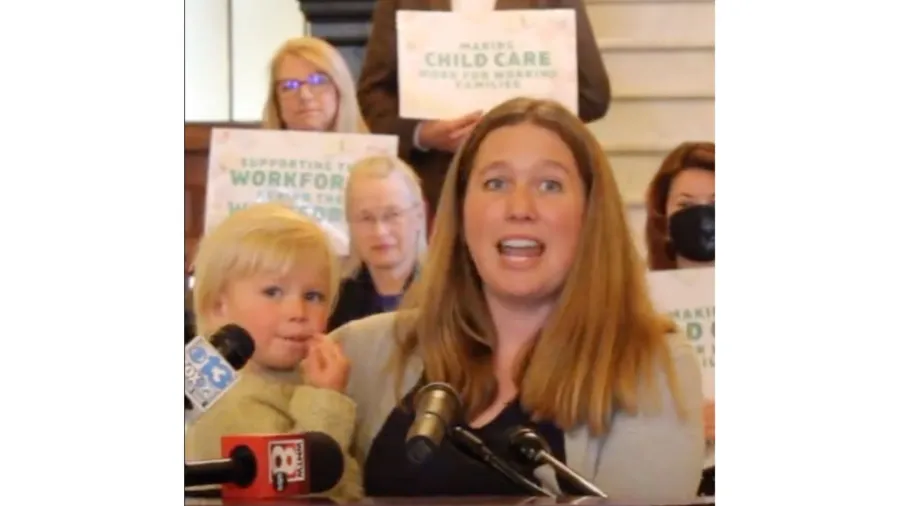 PHOTO: ME AFL-CIO organizer Sarah Bigney McCabe with her son Sam speaks at a press conference about the challenges of finding child care.
Last week, union members from the AFSCME, Machinists S6, Professional Firefighters of Maine and UFCW 1445 testified in support of a bill that would make childcare more affordable and increase the number of childcare options for working parents. Bath Iron Works shipbuilder Tim Suitter, the chairman of IAM Local S6's Legislative Committee, said one of the biggest hurdles to employee recruitment and retention at the shipyard is lack of access to child care.
Suitter described the stress he and his partner Sara experienced after their daycare center closed during the COVID 19 pandemic. She was soon forced to work from home in order to care for their daughter because all of the other child care providers in the area had waiting lists. Now that their daughter is in kindergarten, they're struggling once again to find before and aftercare as well as care during the summer.
"Now we have the stress again of what to do for the summer. Between taking vacation time, working from home a couple days a week and being able to have her spend time with my mother or Sara's mother and doing a couple weeks of day camps, we really still have no idea," said Suitter. "The stress is beyond unbearable on working families trying to figure out daycare solutions."
A recent analysis by the Bipartisan Policy Center, found that there were 280 fewer child care facilities in Maine compared to two years ago. It also found that the child care crisis has hit rural communities the hardest. Child care providers cited low wages for care workers as a major reason for the shortage at the hearing.
LD 1726, sponsored by Senate President Troy Jackson, would increase wages for child care educators to compete with other employers. It would also double the monthly child care worker stipend to $400 and increase the child care subsidy's maximum qualifying income for a family of four from about $84,000 to about $123,600. It would allow more than 1,100 additional Maine families to qualify for a state child care subsidy.
The bill would also:
Offer paid child care for the children of child care educators
Increase subsidy eligibility to help families afford child care
Expand Head Start eligibility and funding so more children have opportunities
Make a long term plan to reduce child care costs to families, while also investing in child care programs and educators.
AFSCME retiree Elizabeth O'Connor told the committee that she had to step in and care for her great granddaughter after the pandemic shut down the child care provider. At the time, the girl's mother was taking college classes and had to leave her job and take a lower paying job with few benefits because it offered her the flexibility she needed to juggle child care. 
 
"Child care is a temporary need but without child care, parents are held back from attaining better paying positions, from attaining positions that offer health insurance, sick time, real sick time!, and to be able to afford time with their children," said O'Connor.
In a child care survey of union members, half of them said they are on waiting lists or can't find childcare. 60 percent said that the limited schedule and hours of child care don't work with their work schedules. Large numbers also cited the distance to commute to their childcare was a problem, as well as the concern of high turnover at their childcare facilities. Some of the quotes we heard for respondents included:
"We are having to borrow money from family and not pay other bills in order to pay for child care. We were denied assistance because we made about $16 too much each week"
"This is forcing my wife to resign from her position and has us going from living comfortably to struggling in just weeks"
"If I did not work a second job then the only bill I could pay is rent. The impact for us is that both of us work and the extra job takes away from us spending time as a family. Some one else is raising my kids."
The committee will likely vote on whether to recommend passage of LD 1726 in the coming weeks. After that, it will go to the full Legislature for a vote, so please contact your legislators and ask them to support this important bill for working families.