Unions Offer Career Opportunities to Laid-Off New Mainers from Abbott Labs
Andy O'Brien
10 Mar, 2023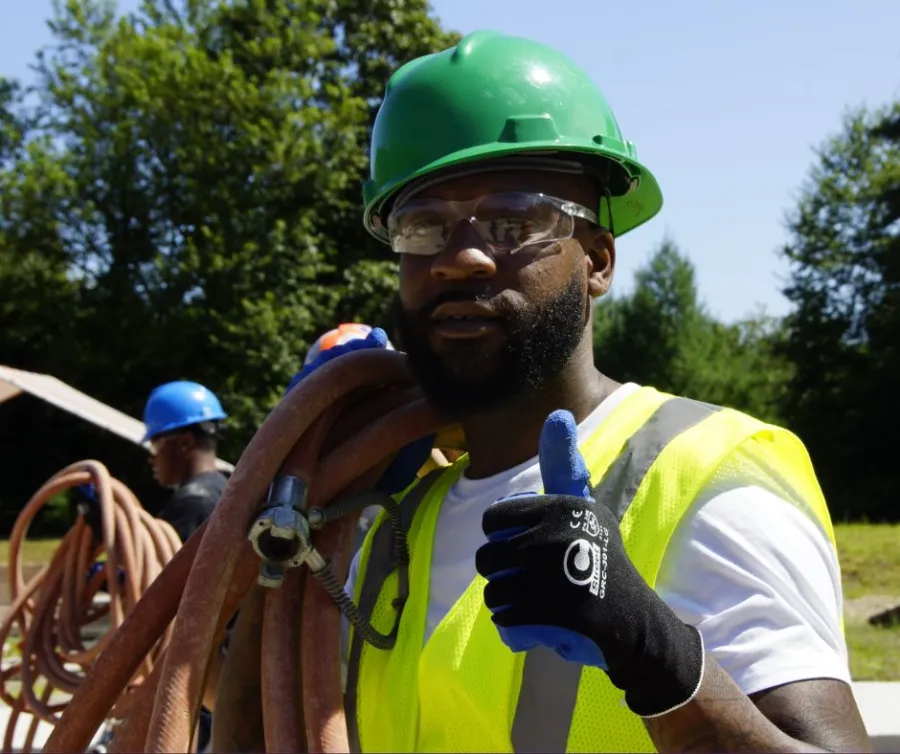 Affiliates of the Maine State Building & Construction Trades Council have been reaching out to hundreds of immigrant workers who were laid off from the Abbott Labs COVID test manufacturing facility in Westbrook last month. In February, the company announced that it would be letting go roughly a thousand temporary workers, some of whom have worked at the facility for multiple years and many of whom are recent immigrants from African countries and the Middle East.
In recent weeks, Peer Workforce Navigators, immigrant and community based organizations and unions have been helping laid off Abbott workers apply for unemployment and connect them to job opportunities in the union building and construction trades and other fields.
Mufalo Chitambala, executive director of the Maine Immigrant Rights Coalition (MIRC), says many of these workers are really struggling. While most of these workers earned little or no benefits, the hourly pay at Abbott was competitive. So now workers are  trying to figure out how many jobs they need to make up for those wages, especially given the high cost of housing in Southern Maine. Abbott was willing to hire workers with minimal English skills, so Chitambala's organization has been sponsoring career fairs to connect these New Mainers to employers who are willing to give them a chance.
"Union jobs would be ideal for these workers," said Chitambala. "But in our countries those are very easy, quick money kind of jobs and they don't have the level of certifications that are required for them to do construction jobs in the US. A lot of them would jump onto that opportunity to work here, but it's a challenge because they don't have the certifications."
Chitambala says employers often struggle with how to properly manage employees from diverse cultures.
The Laborers, Carpenters, Millwrights, Ironworkers and, Operating Engineers all attended at least one of the recent job fairs for former Abbott employees to encourage them to consider union careers. Jason J. Shedlock, Regional Organizer for the Laborers' New England Region Organizing Fund, said he has received 30 applications from former Abbott workers thus far at two different career fairs in the past two weeks.
He acknowledges that language barriers are a challenge, but it's one LIUNA is committed
to help new members overcome. According to Shedlock, Laborers' and construction workers in general often learn best by watching and repeating the task being taught, which can serve to lower the language barrier.
"Our leadership has been unequivocal about the role of the Laborers' union to not only provide an opportunity to any and all workers who are willing and able to explore a career in the building trades, but to also ensure we are meeting our neighbors where they are and understanding what they as well as our signatory contractors need to make it a successful partnership," explained Shedlock, who is also President of the Maine State Building and Construction Trades Council and Vice President/Secretary-Treasurer of Laborers' Local 327. "No one is ever served well by handing them a hard hat and saying, 'Good luck.' We know that necessary support and clear expectations are critical, and this is especially true when working with our immigrant neighbors."
Shedlock says he is using WhatsApp to text with the new applicants because it allows them to translate his communications into their native languages. The next step will be to partner with community organizations like MIRC to meet with the pool of applicants to explain what the expectations are and determine who is interested in moving forward with the process, whether as journey workers, depending on experience, or Registered Apprentices.
The Laborers' and immigrant groups are also planning to help the workers navigate through the initial onboarding process, including exploring ways to ensure they receive their basic construction safety training known as OSHA 10, which will not be as simple as taking a 10-hour online course like native speakers.
Chitambala says that if one group of New Mainers is successful in a union trade, many more workers from their communities will follow. She says the reason why so many New Mainers ended up working at Abbott Labs and Barber Foods in Portland is because the companies hired one group of immigrant workers and then those workers trained the rest who came in after them.
"We just have to get it right the first time and it will sell itself," she said. "All we have to worry about now is training the first ten people and they'll teach each other. There is great potential because a lot of these folks have these skills. They just need to understand the system and they'll be alright."
Shedlock, who also serves on the Board of Directors at MIRC, says he is confident that unions can play an important role in training a diverse workforce to meet the state's workforce needs and ensure New Mainers earn good wages with excellent benefits to support their families in their new home.
"We have worked hard in these communities to build rapport and trust, and will continue to do so" he said. "And, we are union construction workers after all, so we don't just build, we also know a thing or two about demolition. That will come in handy as we are committed to working together to remove barriers and break down the walls that may have previously stood between our immigrant population and Maine's construction industry."