Union Workers and Retirees Learn They Will Receive Their Full Pensions After Years of Uncertainty
Andy O'Brien
14 Sep, 2023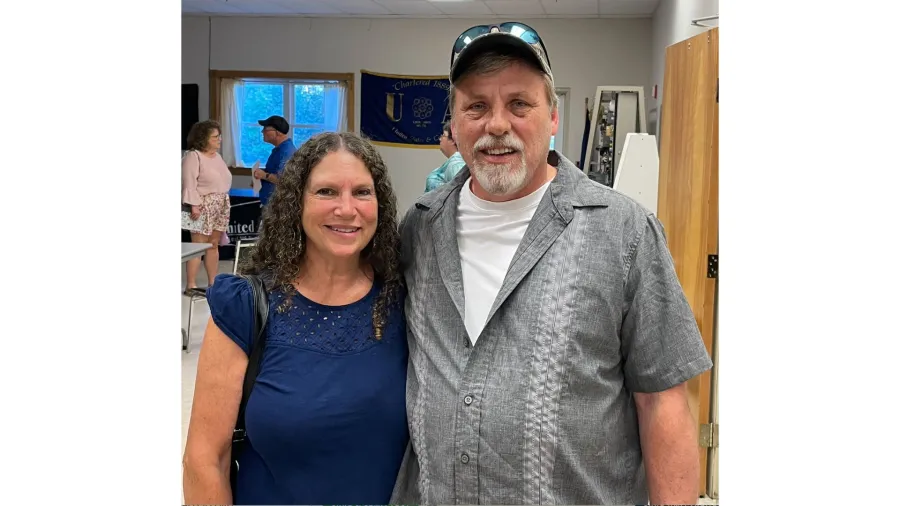 PHOTO:The Morgans, former Carleton Woolen mill employees, at an informational meeting on Sept 7.
Scott Morgan and his coworkers had seen the writing on the wall by the time the Carleton Woolen Mill in Winthrop shut down in the late 1990s. A year earlier, the workers had agreed to take a pay cut to keep the financially troubled mill running. Then when the mill owner, UK-based Allied Textile Companies Limited, declared bankruptcy and announced the mill's closure, Morgan and his wife learned that they were only going to receive pennies on the dollar for their pension after collectively working at the mill for 33 years.
"They gave us like 10 or 20 cents on the dollar," said Morgan. "My wife who had 22 years, she was supposed to get a big check. She got nothing hardly. I got nothing hardly. Everything we had worked for for years."
Then beginning in the Great Recession, the Morgans began to receive yearly notices that their pensions were in critical status due to the Wall Street greed that crashed the economy. Scott Morgan began to doubt he'd ever receive much of a pension at all.
"After ten or fifteen years of these notices you just figure there's going to be nothing," he said. "Nobody tells you anything. When the mill closes, you're done. 'Bye!'"
Last Thursday at an informational meeting held by the United Steelworkers, the Morgans along with 75 former employees of Carleton Woolen Mill and Statler Tissue learned that they will receive their full pensions thanks to funding from the federal American Rescue Plan Act (ARPA).The new law, which passed along party lines in Congress and was signed by President Biden in March 2021, provides a grant to shore up 200 multi-employer pension plans at risk of becoming insolvent. The special funding will prevent benefit cuts of roughly 60 percent in the next few years for millions of workers and retirees in Maine and across the country.
"It's nice to get something because I expected nothing. You know what I mean? It's like, 'wow! Someone is actually going to give me something?" Morgan said laughing. "This will come in handy when we retire. It makes you feel better because even though the money is still there, a lot of people just threw their paperwork away."
A number of former mill workers in the room didn't even know they had pensions anymore because they misunderstood the notices they were receiving each year. Former Carleton employee Steve Crocker, 70, said he didn't even bother applying because he thought his pension was gone.
"The notice said 'We don't think you guys are going to get it' so I never tried filling out an application," said Crocker. "It kept showing something, but it says 'you might not get it.' So I said, 'Why am I doing all this work for nothing?'"
Crocker said he wished he had learned that his pension was still there ten years ago after he was forced to stop working due to work-related injury and was denied workers' compensation. After struggling for years to get workers comp and his health insurance company to cover expenses related to his injury he figured it wasn't worth the headache to apply for his pension if it wasn't even there.
"When I got the notice I thought to myself, 'Jeez am I going to make it or not because I just had open heart surgery on a valve inside my heart and just had a pacemaker put in," said Crocker.
He said he planned to immediately apply for his pension from Carleton Woolen Mill.
USW Staff Rep Mike Higgins said it's unfortunately very common that retirees misinterpret the notices they receive from their pension funds and never apply for the benefits they are entitled to. Others don't realize that they don't have to be totally retired to collect their pension. With the the United Steelworkers' PACE Industry Union-Management Pension Fund (PIUMPF) workers are eligible for the full pension at age 65, but they can also collect it earlier and take a 6 percent penalty.
"People need to realize that if they have a vested pension, it's somewhere," said Higgins. "A lot of people work at several places and don't realize that they're still vested in different pensions. We bargained for those pensions and it's your money."
Chris Everett of Augusta worked union jobs at the Rumford Mill as well as several defunct union companies including Carleton Woolen Mills, Penobscot Poultry and the Otis and Verso Paper mills in Jay.
"It has been tough, but the factory closures have made me a lot more frugal over the years," he said. "It's really great they had this meeting because we found out we actually still have a pension for those of us who are vested. Something to look forward to unless I get six feet under first."
If you are or someone you know is vested in a pension but don't know where to apply for benefits contact the Pension Rights Center.