Union Leader Diane Winton (IBEW 2327) Retiring After 40 Years in the Struggle
Andy O'Brien
16 Mar, 2023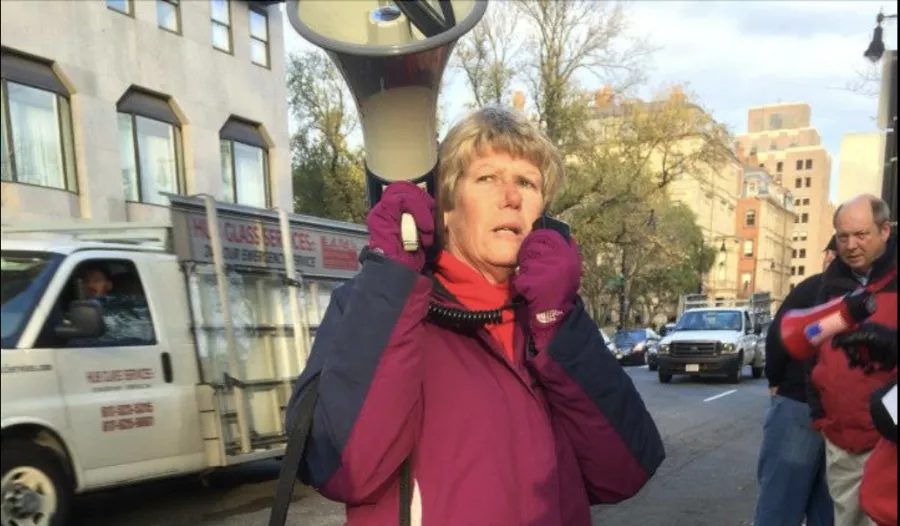 Longtime union leader Diane Winton is retiring as IBEW Local 2327's Assistant Business Manager at the end of the month after four decades in the labor movement. During that turbulent time for the telecom industry, Winton rose from a temporary splice service technician at New England Telephone to chief steward and union president. For thirteen of those years she was both president and assistant business manager.
"Diane is definitely going to be missed by membership," said Julie Dawkins, Business Manager for IBEW 2327. "I hope she has an incredibly long, healthy and wonderful retirement, but I know Diane and she's not going to disappear. Her heart is with us and she will be here forever to help us."
Since Winton began her career, she's been through several mergers and acquisitions and stood on the picket lines during bitter strikes in the 1980s and 2000s. Whether it was bargaining, enforcing contracts or lobbying state lawmakers in Augusta, Winton has earned a reputation as a "pit bull" for her members.
The Anti-Union 80s
After graduating from the University of Maine in 1983, Winton decided to follow the path of her mother and aunt in pursuing a career at New England Telephone. She hoped to land an office job, but the only job available was a temporary splice service technician position servicing and maintaining telephone lines out of the Brunswick garage.
"I said 'well, I'll try it. Nothing ventured, nothing gained and here I am," she recalled.
Winton entered the workforce during a very difficult time for the labor movement. In 1981, President Ronald Reagan fired thousands of striking PATCO air traffic controllers, marking the opening salvo in a corporate war on workers. In Maine, companies deployed armies of scabs to break unions at Maine companies like Cole's Express (1983), FMC Marine Colloids (1985), the Maine Central Railroad (1986), and the International Paper Company(1987-88).
New England Telephone Co. was part of a national monopoly of telecommunication companies initially controlled by AT&T's Bell Telephone Company (known colloquially as "Ma Bell"). Facing a federal anti-trust suit, the telecom giant agreed to break up into seven regional independent companies known as "Baby Bells." Months before the company's divestiture, negotiations broke down over its demands for concessions concerning job security and benefits.
During Winton's first summer working at New England Telephone she found herself in the middle of a massive national strike of 700,000 NET workers, including 2000 IBEW 2327 members in Maine. Eleven picket lines sprung up outside NET offices across the state.
"We had to make a decision as temps because we were new to all this," recalled Winton. "I'm in a garage with all of these strong union people and 'I'm like what do I do? I'm a temporary employee. I don't want to lose my job.' And they all told me, 'You're not going to lose your job and you're not crossing that line.' And I didn't."
In the end, the union settled with NET after 22 days out, but bitterness lingered. While there were some contract improvements, IBEW 2327 Business Manager George Nadeau was not happy with the settlement, telling the Lewiston Sun Journal that they ended the strike due to pressure from national union leadership. It was the last time the unions would bargain at a national table and the beginning of a long struggle as a parade of various companies acquired the NET lines over the next 30 years.
"Each time we went to a different company, it was supposed to be better, but it wasn't and it hasn't been," said Winton. "The worst thing that happened was Judge Green breaking up the Bell System. The small New England Telephone Company was by far the best experience I had as far as the company goes."
A Pioneering Woman in a Male-Dominated Workplace
Eventually a permanent position opened up at the Ellsworth and Winton seized the opportunity. At the time, there was only one other female worker in her trade in Maine, but up north Winton was alone as a young woman in male-dominated work environment. At every garage she worked, she had to prove that she was just as capable as any man.
"It was absolutely brutal there. It was probably the hardest time I ever had, but the union workers were great. It was the management team that was the problem," she said. "I think that's when I became the most union oriented. I vowed to never let what happened to me happen to somebody else."
Supervisors were determined to make her life miserable. She was forced to do jobs no one else wanted. Supervisors constantly hovered over her and demanded that she repeatedly perform pointless tasks.
At one point she asked for a day off a month in advance and was denied three days before she planned to take it. After challenging the decision and learning that there was no work in Ellsworth that day, her supervisor finally called and said, 'You have the day off, Diane. But if you ever challenge me again, there will be consequences."
Retired IBEW 2327 Business Manager Pete McLaughlin started working at the company the same year and recalled how Winton worked hard to earn the respect of her coworkers.
"Diane was in a predominantly male world and she had to bust her ass to make her way as a woman in that world," said McLaughlin. "And those problems are still there even though we're working hard at overcoming it."
Dawkins credits Winton as helping to pave the way for other women like herself.
Fighting Back Against Corporate Attacks
After a few years, Winton successfully bid for a permanent position back down south in Kennebunk. For the first six months, management was hard on her, but only because her former supervisors bad mouthed her to them. But once they got to know her, they respected her and appreciated her hard work ethic.
In 1984, New England Telephone merged with New York Telephone to form NYNEX. In 1989, IBEW 2327 joined 60,000 workers in New England and New York in a militant 15-week strike over threatened cuts to their health benefits.
During the strike, workers held rallies of up to 15,000 people while the company responded with hundreds of firings, arrests and suspensions. The unions formed coalitions with several organizations including Jesse Jackson's multi-racial Rainbow Coalition, the National Organization for Women and various religious and community groups. The strike lasted for months, but the workers were able to declare victory as the company agreed to drop its demand.
Meanwhile, Winton's colleagues began to recognize her strong leadership skills and she rose from shop steward to chief steward in Kennebunk.
In the early 1990s, Winton was serving on the union's executive board when members urged Winton to run for local president and she won in a contentious election. The union was divided and Winton and Pete McLaughlin were on opposing sides, but they both had great respect for each other. Meanwhile, Bell Atlantic acquired NYNEX in 1997 and then changed its named to Verizon New England merged with GTE Corp.
In 2000, 50,000 telecom workers — including a thousand IBEW 2327 members and 250 CWA 1400 members in Maine — once again took to the streets over threats to their job security. By that time, Local 2327 had already lost a thousand members due to layoffs and attrition.
McLaughlin had become the business manager and Winton was the local president. When the  assistant manager position opened up in 2001, McLaughlin immediately knew who he wanted to work by his side. Not only was Winton a skilled leader, but she could also help heal the  geographic divide, with McLaughlin in Northern Maine and Winton in the South.
"Diane and I may have looked at things differently from different angles, but we always had the membership's interests in mind, so it was easy for us to come together," said McLaughlin.
Dawkins says the "team of rivals" approach not only helped unify and strengthen the union, but it also helped make it more inclusive for women.
"Diane has really been an absolute mentor for women in a field that was historically all men," said Julie Dawkins. "She worked her ass off and built a very tough, kick ass type attitude. Everybody knew that if you had a problem you wanted Diane Winton on your side."
Winton also believes one of the most important skills she learned is how to build relationships with management.
"They respect you more for that because they know with me that I can be cordial to you outside the workplace, but when it comes to the contract and doing the right thing, I'll cut your knees off if I have to," she said.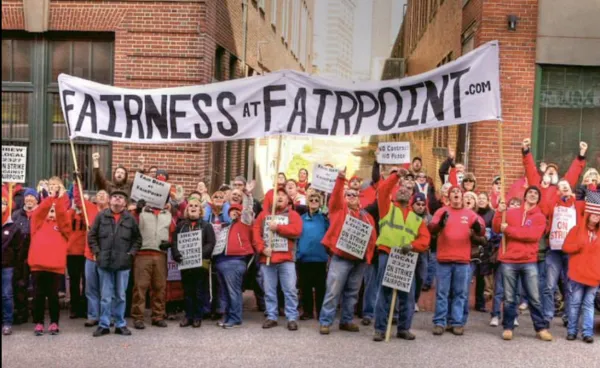 Over the next 20 years, the battered union was facing even more struggles as the North Carolina-based Fairpoint Communications purchased the company and filed for bankruptcy the following year. In 2014, the company walked away from the bargaining table after demanding deep concessions.
Local 2327 and CWA 1440 led a 131-day strike through the winter involving 40 percent of the company's rank and file workers. While several Fairpoint workers in other states crossed the picket line, only one IBEW 2327 member scabbed during the entire strike from October 17 to February. And he was the same one who crossed the picket line in 1989.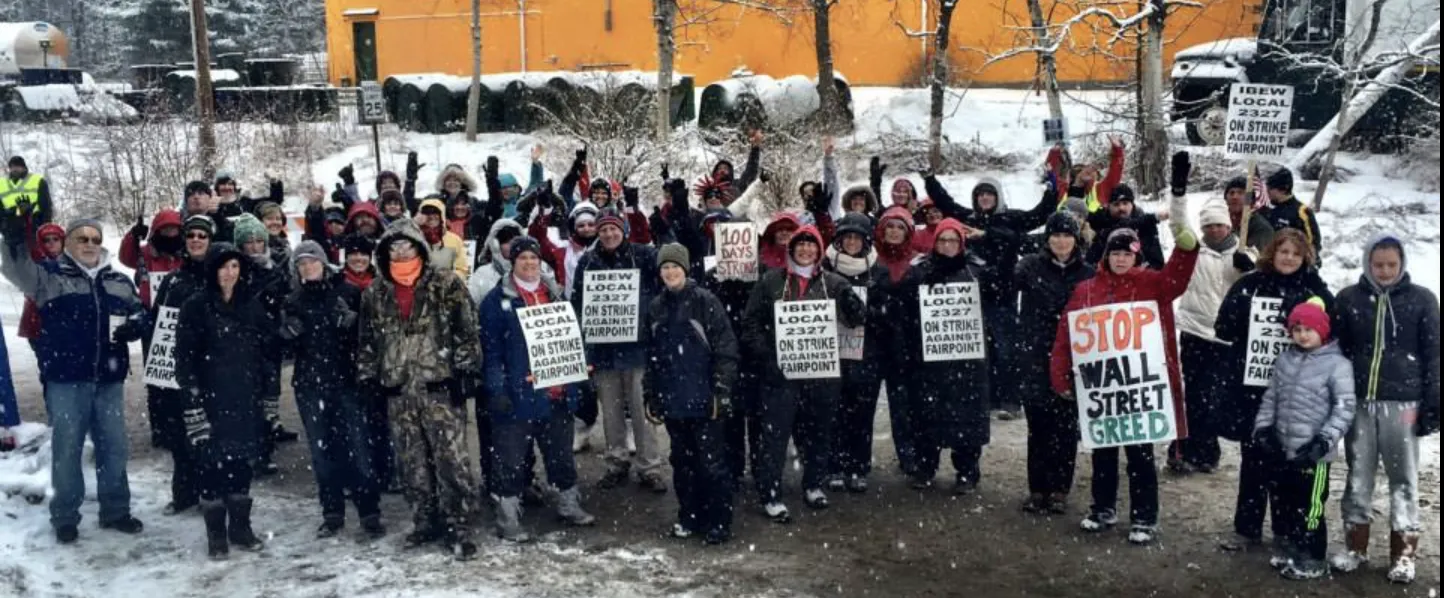 A Potentially Brighter Future
Since Winton began working at the company 40 years ago, IBEW 2327 membership has declined from over 2000 members in 1983 to 400 members today, largely due to increased competition and technology changes in the industry. However, Consolidated Communications, which purchased the company in 2018, is now trying to rebuild its workforce to expand Fidium, an expansive fiber optic network throughout Maine.
Winton says the company is starting to regret using so many subcontractors because they're not getting as much "bang for their buck." It's difficult to find skilled traveling workers to come to Maine, particularly during the winter and down South during hurricane season where they can earn more money.
It hasn't been easy for Winton to pull away from her calling. While recently vacationing in Hawaii she found herself in phone calls discussing union business from the early morning until late at night.
"These aren't just members. They are her family," said Dawkins. "Not only has she made sure that they were not passed by for promotions, that they were not abused and that the contract was followed, but she's also helped them through the loss of children, siblings and parents."
As for lessons for today's emerging union leaders, Winton has this to say: 
It is not an easy job. It is a job definitely worth doing, to ensure that the quality of life that our brothers and sisters fought for before us will continue for present-day members and for generations to come.
When We Fight, We Win!
In Solidarity,
Diane