Union Families, Friends & Labor Allies Celebrate Labor Day
Andy O'Brien
08 Sep, 2023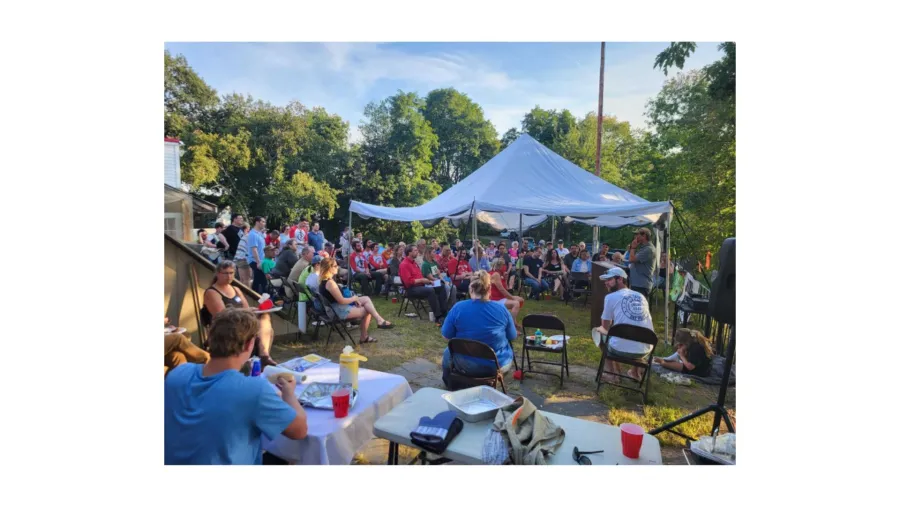 We couldn't have asked for more beautiful weather this past weekend as union members and their families gathered at Labor Day celebrations across the state. The events kicked off on Sunday with the annual Central Maine Labor Council cookout on the banks of the Kennebec River at Mill Park in Augusta. 
Tim Dunlap from Ironworkers Local 807 described how Cives Steel workers won their contract last spring and Maine Service Employees Association members provided an update about contract negotiations with the State of Maine. There was plenty of delicious food to go around and union members welcomed local unhoused people to partake in the feast in the spirit of solidarity.
"I just thought it was a really nice gathering," said Dean Staffieri, President of the Maine Service Employees Association, SEIU 1989. "Folks from all different walks of life came together and had some great dogs and burgers, bringing that solidarity together."
 
Senate President Troy Jackson, Rep. Reagan LaRochelle (D-Augusta), Rep. Bill Bridgeo (D-Augusta) of Augusta and Secretary of State Shenna Bellows were also in attendance. Afterwards, attendees joined a convoy of vehicles covered in banners calling on the Mills administration to settle a fair contract and drove several loops around the Capitol.
 
The next morning, about 170 union members and friends gathered for the annual Southern Maine Labor Council breakfast at the Irish Heritage Center in Portland. The breakfast, which was catered by Black Betty's Bistro in Portland, was free this year and Maine AFL-CIO Executive Director, Matt Schlobohm, and Matt Emmick, the new director of the Dr. Charles A. Scontras Labor Center, both gave inspiring speeches. Emmick discussed how Scontras Center will honor the great labor historian's legacy.
"Charlie once said we have an obligation to future generations to preserve and document history." said Emmick. "This is important because Labor History is often the history of power and when workers understand their power they have the guts  to stand up and better each other's lives."
One of the main highlights was IBEW 1837 retiree Matt Beck receiving SMLC's Lifetime Working Class Hero award for his longtime dedication to the labor movement. 
 
Former Little Dog worker and labor activist Peach Cushing said he enjoyed reconnecting with other labor folks and appreciated that the Maine AFL-CIO is continuing to take a strong stand on farmworker rights despite Governor Mills opposition to bills to grant them rights and protections that other workers have.
"It was really cool to run into people who I've seen before and see some new faces," said Cushing, who is also a member of DSA, a co-sponsor of the event. "It was also fun to mingle with people in the clean up after the event."
IBEW2327 retireeBarney McLelland, SMLC's recording secretary, said it was great to a lot of new faces, including a graduate worker organizer from New Hampshire.
"There's definitely a lot more energy in the labor movement now," he said. "There's also a changing of the guard. There are some young people coming up who are taking leadership positions and taking an interest in the labor movement. If we're going to survive that's what we've got to do. It can't be a bunch of old farts like me."
Legislators in attendance included Senate President Troy Jackson, Sen. Stacey Brenner (D - Scarborough), Sen. Anne Carney (D-Cape Elizabeth) and Reps. Mark Malon (D-Biddeford), Lois Reckitt (D-So. Portland), Amy Kuhn (D-Falmouth), Kelly Murphy (D-Scarborough) Allison Hepler (D-Woolwich) and Dan Sayre (D-Kennebunk). Commissioner of Labor Laura Fortman also joined and shared remarks from the Governor. 
Later that day, over 150 workers attended Eastern Maine Labor Council and Food AND Medicine's Labor Day celebration with food from local farms at the Solidarity Center in Brewer. Special guests included Rep. Amy Roeder (D-Bangor), Rep. Jim Dill (D-Old Town), Rep. Laurie Osher (D-Orono) and state Attorney General Aaron Frey. Speakers included UMaine graduate workers, Senate President Troy Jackson, Maine Building and Construction Trades Council President Jason Shedlock and others. The Eastern Maine Labor Council also presented the following awards:
Dan Lawson Memorial Solidarity Award: Rep. Amy Roeder
KICKASS Organizing Award: UMaine Graduate Workers Union, UAW
2023 Affiliate of the Year: (tie) Maine State Nurses Association, NNU & Maine Service Employees Association (SEIU 1989)
FAM - Community Solidarity Award: Orono Town Councilor Sonja Birthisel
North Star Award: Melissa Smith (UAW 2320)
"It was a really warm, celebratory event. The food was fabulous, so you know where my head is at. The corn was the best I've had all year," said Staffieri. "It has a really nice grassroots feel to it up there."