Union Construction Academy of Maine Featured in National Apprenticeship Week Story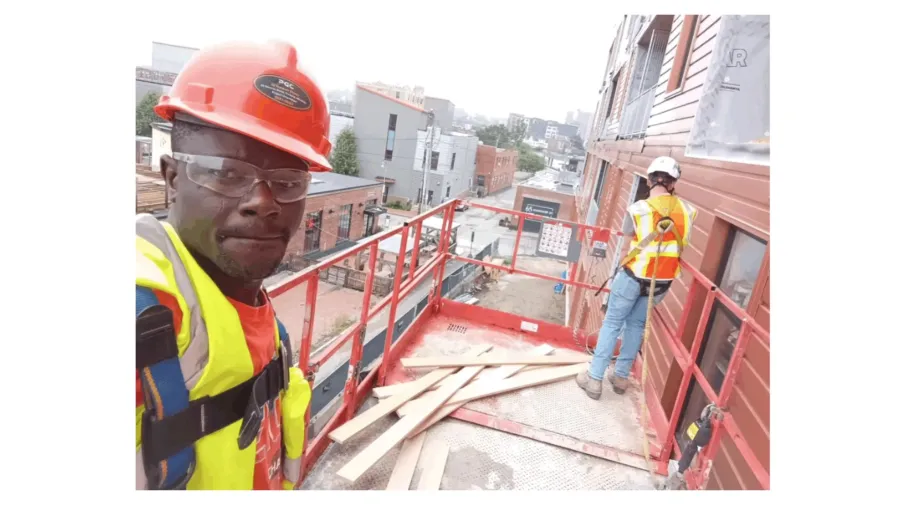 PHOTO: UCA graduate & Carpenters Union apprentice Sama Essohoun
News Center Maine profiled one of our successful graduates from the Union Construction Academy of Maine in a recent segment about National Apprenticeship Week. Originally from West Africa, Sama Essohoun moved to Maine two years ago and bounced between various temporary jobs. He previously worked as a carpenter in Brazil, so  Essohouna had the skills needed to be successful in a career in the trades.
"The job of the U.S. is a little different from Africa," Essohouna said. "I want to get more experience in construction."
 
After graduating from the four-week pre-apprenticeship program, the UCA helped him get into a registered apprenticeship program working in the Carpenters Union.
"I could tell right away he knew what he was talking about, but he just needed certain certifications," Sam Boss, the Maine AFL-CIO's Apprenticeship and Workforce equity director told News Center.
Governor Janet Mills has set a goal in her 10 Year Economic Development Plan of adding 75,000 workers to Maine's workforce by 2029 and supporting apprenticeship programs is a key part of administration's strategy to meet that goal. As part of National Apprenticeship Week, the Maine Department of Labor (MDOL) highlighted the Maine Apprenticeship Program, which currently has 1,345 active apprentices.
In January 2022, the Maine Department of Labor, through the Governor's Maine Jobs & Recovery Plan and other federal grants, made $12.3 million in grant funding available to Maine unions and businesses to expand apprenticeship programs significantly. Fourteen organizations, including the Maine AFL-CIO, were selected to receive the grant funding in June 2022. Since last year the number of registered apprentices has doubled.
"With the help of the Maine Department of Labor, the Union Construction Academy prepares women, people of color, immigrants, formerly incarcerated people, and low-income individuals to enter careers with our Maine Building & Construction Trades Unions," said Sam Boss, the Apprenticeship, Workforce & Equity Director for the Maine AFL-CIO, who is a Maine Jobs and Recovery Plan grant recipient.
The grantees are not just focused on expansion; they are focused on ensuring apprenticeship and pre apprenticeship opportunities are accessible to all. Of the total participants involved in the grant programs, 25 percent are women and 21 percent are people of color.
"Historically, these groups are underrepresented in the trades, but by going through our intensive four-week pre-apprenticeship, they gain valuable training and certifications and a direct pathway into stable, good-paying careers. They also receive soft-skills training and mentorship that will help them hit the ground running at their worksites," said Boss. "We've had great results with our program so far, and we are pleased to see many of our graduates thriving in Union apprenticeships, earning while learning, and developing relationships with mentors who will help them to grow and succeed in the long run."