TSA Workers in Maine Receive Historic Pay Raise & Expanded Rights
Andy O'Brien
26 Jan, 2023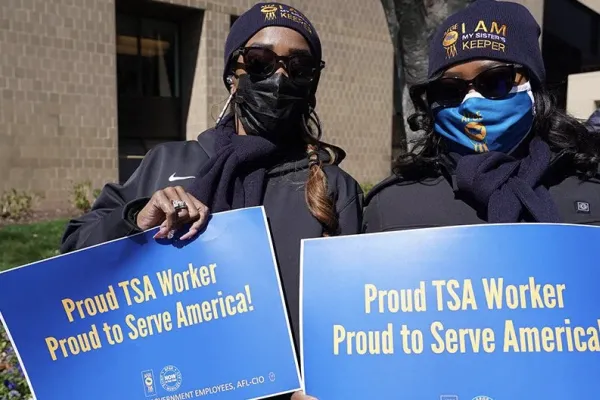 Transportations Security Officers (AFGE) have won a historic pay raise to bring TSO pay in line with the general schedule that most federal workers receive and expanded workplace rights under Title 5, which covers most federal employees.
In late December, President Biden signed into law the 2023 omnibus government funding bill that funds the pay hike for TSOs, giving the severely underpaid workforce an average 30 percent raise. The $398 million allotment to the agency will improve the pay and bargaining rights for TSOs, who are currently among the federal government's worst-paid employees, and would move them closer to an equivalent to the general schedule.
The move towards better pay and improved collective bargaining rights is a positive development for an agency that has long been plagued by low retention, high turnover, and difficulties in attracting employees. The new pay rates will take effect July 1, 2023.
"This is very significant because we were one of the lowest paid federal workers out there, yet we have a very important job to do in protecting the traveling public," said TSA worker Bill Reiley of Alfred, Maine, the vice president of the American Federation of Government Employees Local 2617, which represents TSA officers in Massachusetts, Maine and New Hampshire. "The expansion of our collective bargaining rights is also huge because we won't be limited on what we can negotiate over. We'll also be able to negotiate all the rules and regulations that impact us. I want to give a big thanks to all of the union members in Maine who contacted our Congressional delegation to support expanding out rights."
But while the Biden Administration's administrative decision will grant the same collective bargaining rights to TSA officers as other federal employees, it can easily be administratively repealed by the next presidential administration if the political winds change. That's why Reiley says AFGE 2617 members will continue to advocate for a law to guarantee them these rights.
Versions of that bill were co-sponsored by Senator Angus King and Reps. Jared Golden and Chellie Pingree, but Senator Collins refused to sign onto the legislation. Although AFGE 2617 is disappointed Collins did not support the collective bargaining rights legislation, they were grateful that she voted for the omnibus spending bill to fund these expanded rights.