State Workers Testify That Low Wages Threaten Public Safety, State Parks & Child & Family Services
Andy O'Brien
19 May, 2023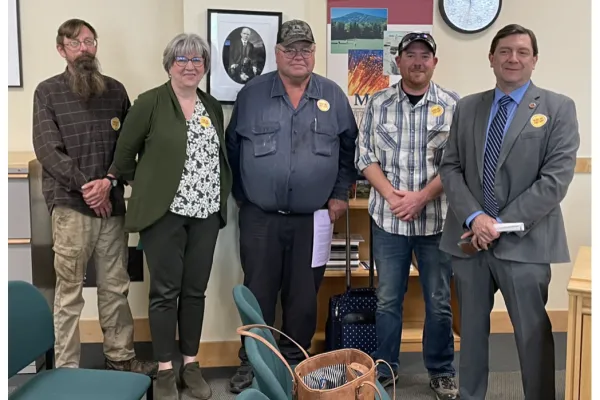 Last Friday, Department of Transportation workers, fish hatchery workers, education representatives, insurance analysts, planning and research associates, building custodians, foresters and other Maine Service Employees Association (SEIU 1989) members traveled to Augusta to support a bill that would help close the pay gap for state employees, who are falling further and further behind due to low wages.
Maine Department of Transportation worker Tony Baker drove all the way down from Presque Isle to be a voice for his union brothers and sisters at MDOT's Ashland camp. Baker told the State and Local Committee that low pay is causing a major staffing shortage as workers are leaving for higher paying jobs outside Maine DOT.
"We're really struggling up north in trying to maintain a level of service and keep the public se. In the last four years, we've been consistently short six out of 10 employees, and we're trying to maintain five plow beats with four drivers," Baker said. "It's not safe for us to be doing thirty-plus hours straight every night trying to keep the roads clear. It's dangerous for us and it's dangerous for the public."
The current employee classification and compensation systems haven't been overhauled since their creation in the 1970s. As a result, state workers in Maine are paid 15 percent less on average compared to what their public and private sector counterparts throughout New England receive for comparable work. Currently, 1 in 6 jobs in state government are unfilled with about 2,100 vacancies, including critical areas like child welfare, road maintenance and repair and public safety.
L.D. 1854, would require the state to allocate $1 million to complete its state employee classification and compensation study it started in 2019. The proposal establishes a schedule for future compensation studies and classification reviews and provides a mechanism to hold the state accountable. If the state fails to complete the study and fix the pay gap by July 1, 2024, the measure would require the state to give a 5 percent across-the-board pay increase to all state workers.
Office of Child and Family Services caseworker Kevin Goodoak described how he has to explain to parents that there are no staff to supervise visits between them and their children. He tells them they may need to wait one to three months, and that he can't supervise every visit for every family he works with.
"I've watched three experienced caseworkers that trained me pack up and leave, and they're leaving for other case management positions," said Goodoak. "I talk with case managers from other agencies and know caseloads are lower, positions are less complex, and every Friday I get emails about openings in these case management organizations."
In a letter to the committee, twenty-four Maine park managers urged the committee to pass LD 1854 because park staffing is "completely unsustainable" at a time when visitor numbers have spiked. Pay for rangers and other park employees starts at just $15 per hour, often lower than fast food restaurants, while staff with years of experience aren't earning that much more due to severe wage compression.
"With staff stretched and thin, facilities cannot be maintained to the same level of safety as is possible when parks are fully staffed," the park managers wrote. "It is a matter of time until the facilities deteriorate. Without the workforce necessary to see their upkeep, visitors will soon begin to encounter parks that are dirtier, less safe, and far below the standard that we, the park staff, want to maintain."
The park managers said that their work weeks range from from sixty hours a week to, in one extreme case, a hundred hour work week during peak season.
"Managers have found themselves taking trips to the hospital for stress-induced heart palpitations or needing anti-depressants and medication for blood pressure," the park rangers continued. "Some expressed an inability to sleep through the night. Some experience a sense of helplessness at watching their field staff cry on a regular basis. For all, there is a persistent, increasing sense of hopelessness that derives from the realization that, no matter how well we do our jobs or how hard we work, the state parks simply cannot continue to function if pay and staffing remain as they currently are."
A representative from the Mills administration said it is scheduled to complete the classification and compensation study by the next calendar year, but was doubtful it would be able to complete both that and a new market study by then. The State and Local Committee is expected to vote on the bill in the coming weeks. After that, the measure is expected to go to the Legislature's powerful Appropriations Committee, which will decide whether to fund the measure.