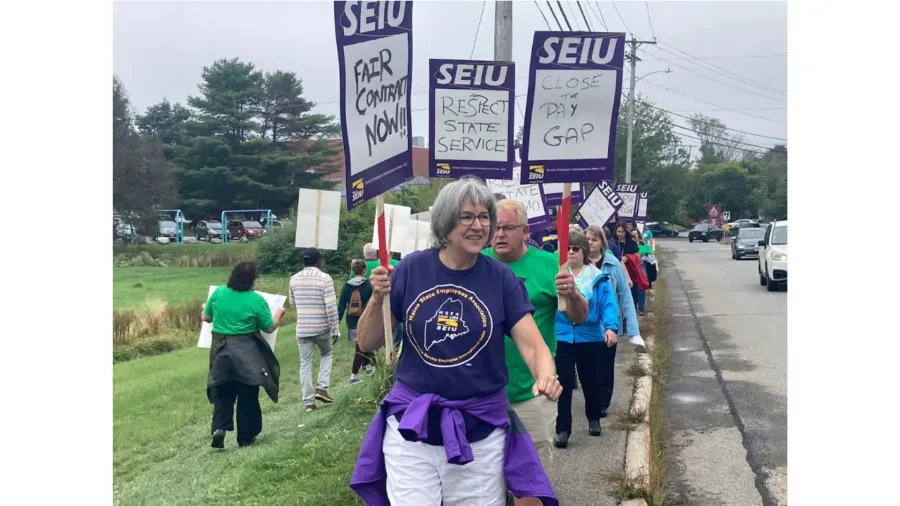 State employees with the Maine Service Employees Association (SEIU 1989) picketed the Maine Department of Administrative and Financial Services Employee Appreciation Day lunchtime event in Augusta on Tuesday to call on the state to negotiate a fair contract. The workers chanted and carried signs to draw attention to the State's refusal to agree to fair wages for nearly 13,000 state employees who have been working without a contract since June.
"The Department of Administrative and Financial Services is having a worker appreciation day and we're here to say, 'thank-yous' are great but we need higher wages and we need the class and compensation study to be completed," Department of Health and Human Services employee Mark Brunton of China told the Kennebec Journal.
"I think it's important to remind Gov. Mills that appreciation isn't something that we can pay our bills with," Anna Massefski, 27, who works in the Maine Department of Public Safety, also told the KJ. "There are 11,000 state workers who need to be taken care of before we can take care of Maine people... I'll never be able to afford a house doing what I do now."
The union called for worksite pickets across the state out of growing frustration with the direction of negotiations after the Mills Administration's chief negotiator stormed out of a bargaining meeting last week as MSEA members shared stories about their financial struggles. On Monday, the Mills administration filed a request for mediation in contract negotiations. MSEA criticized the administration for its "intransigence."
"Given the state's intransigence so far on closing the state employee pay gap at the bargaining table, we're not surprised that the state would ask for the intervention of a mediator," the union said in a statement. "Whether the state negotiates directly with state workers or through a mediator, there's no way of sugarcoating the fact that state workers for decades have been substantially underpaid."
The state has been struggling with serious staffing recruitment and retainment issues as state employees are paid on average 15 percent less than other public workers or their peers in the private sector, according to a 2020 study.
Brunton pointed out to the Maine Beacon that the state's 'Rainy Day' fund has reached its maximum and there have been budget surpluses in recent years while workers get stiffed.
"They need to find the money to pay the workforce what they need to serve the people of Maine," he said. "I mean, what's it going to take? The roads not getting plowed this winter? The ferries not running? God forbid, a child who's at risk gets hurt?"