Starbucks Illegally Closes Recently-Unionized Store in Portland
Andy O'Brien
18 Nov, 2022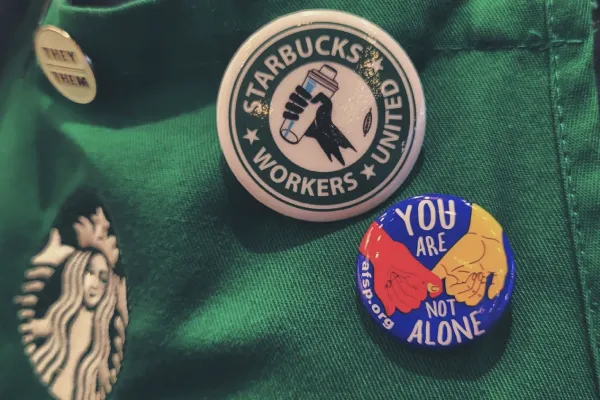 Less than a month after Starbucks baristas in Portland voted to unionize, Starbucks announced Tuesday that it intends to close the Old Port location, in an illegal act of union busting.
"We just got word today that corporate @Starbucks is closing the Portland location on Middle and Exchange that just voted in favor of unionization," Starbucks Workers United Maine tweeted. "This is blatant union busting and incredibly unfair to our Portland partner."
Speaking to WMTW, Portland Starbucks barista Cody Dow said Starbucks is "specifically saying" the move is not related to the unionizing effort, "but that is the only thing they're saying and if you're only saying that it feels like you're saying 'it actually is this, but we've got to say this to be good.'"
Maine AFL-CIO President Cynthia Phinney called the move an "egregious anti-union tactic" in violation of the right of workers to unionize free from retaliation under the National Labor Relations Act.
"Unfortunately, this is a pattern that is playing out across the country as these self-serving corporations seek to send a chilling message to workers seeking to organize," she said. "We urge the National Labor Relations Board to demand that that Starbucks reverse its harmful decision and bargain with its employees. In the meantime, Maine workers will continue to organize, build power and fight back against these abuses and hold corporations accountable for their unethical behavior."
On October 17, the baristas voted 10-3 to unionize, following a successful organizing effort of Starbucks workers in Biddeford in July. This is the second time in four months that a national food and beverage chain illegally closed a Maine location to prevent workers from exercising their right to collectively bargain.
Earlier this month, the National Labor Relations Board determined that Chipotle broke the law when it closed its Augusta restaurant where workers were forming a union. In its complaint the board stated that restaurant should reopen, former employees should be offered their jobs back with back and the company needs to bargain with the employees.
Congresswoman Chellie Pingree has called for an investigation into  Starbucks' decision to close the Old Port location.
 
"Starbucks' decision to close one of its busiest stores in Portland less than a month after workers formed a union appears to be a brazen violation of the National Labor Relations Act," said Pingree in a statement. "The widespread practice of large multi-billion-dollar corporations punishing workers who collectively bargain is despicable."
Pingree noted that she joined 30 of her House colleagues in urging Starbucks to support and embrace workers legally organizing at their stores.
"I received a response from Starbucks saying the Fortune 500 company 'remains committed to good faith negotiation and satisfying all collective bargaining obligations,'" Pingree continued. "Today we can confirm that was just lip service. The NLRB must investigate and protect workers in Maine and across the country."
Over 100 union organizers have been fired by Starbucks during the unionization wave that began in late 2021 and 350 Unfair Labor Practice complaints have been filed with the NLRB.