Solidarity with Nurses & Consolidated Communications Workers
Andy O'Brien
15 Jul, 2021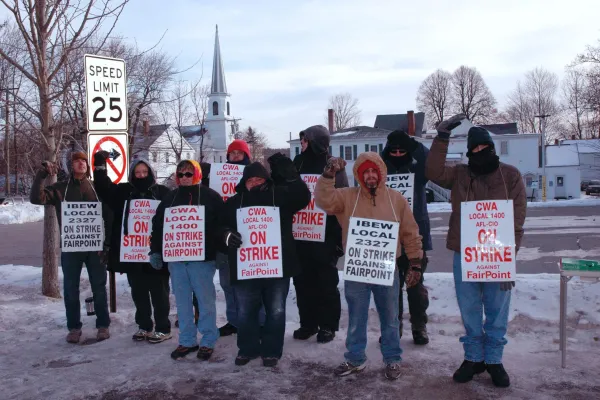 IN THIS EDITION:
USW Local 27 Member Retires After 55 Years at the Baileyville Mill 
Consolidated Communications Workers Authorize Strike
Solidarity with Tenet Nurses On Strike in Massachusetts
New Unemployment Reform Law Is a Huge Win for Working Mainers
Labor Bills Become Law; Others Vetoed
Let Us Know About Any Workplace Struggles in Maine
USW Local 27 Member Retires After 55 Years at the Baileyville Mill
[caption caption="USW 27 Member Basil Leighton" align="right"]
[/caption]
USW 27 member Basil Leighton of Pembroke was about to finish high school in 1966 when he started sending out job applications. At 18, he was already married and he knew he needed a good-paying job to support his family. His top two choices were Bath Iron Works and the Baileyville Mill because both facilities offered good wages and benefits thanks to the union members who fought for them. Both companies called him back, but he decided to go with the mill because it was closer to home.
"It was a good place to work," said Basil. "There were great people and the money was good but you had to get used to the shift work is all."
Back then the workforce at the mill was much larger and Georgia Pacific was expanding operations. But over the past five and half decades, the number of workers at the Baileyville mill has unfortunately declined significantly. Now with five adult children and numerous grandchildren, Basil finally retired two weeks ago after 55 years of doing shift work at the mill. We wish our union brother the best in his well-earned retirement!
Consolidated Communications Workers Endorse Strike
[caption caption="IBEW 2327 & CWA 1400 members picketing in Augusta in 2014 during the Fairpoint strike." align="center"]
[/caption]
An overwhelming majority of Consolidated Communications union members in Maine, New Hampshire and Vermont have voted to authorize a strike. Representatives of the Communications Workers of America (CWA) Local 1400 and International Brotherhood of Electrical Workers (IBEW) Locals 2320, 2326, and 2327 have been in negotiations with the Company since March and have yet to reach an agreement. The contracts of over 1,000 union employees in Maine, New Hampshire, and Vermont expire on August 7.
A strike authorization vote is a necessary precursor to a work stoppage, but does not require the union members to actually go on strike. Such a decision could be made later by union leaders. Once again, the major sticking points between management and labor are the company's insistence on being able to use outside contractors to perform bargained for work and continuation of moving work outside of Northern New England.
"No one here wants a strike. Our members want nothing more than to provide the service our customers deserve," said Pete McLaughlin, IBEW T-9 Chairman. "We will continue to bargain in good faith and are only asking that CCI lives up to the commitments it made to us 3 years ago. If they won't work with us to reach a mutually-agreeable contract, we may be left with no other option."
CWA Local 1400 President, Don Trementozzi added, "CWA and IBEW are in lock-step with each other to continue to fight for good paying jobs, and to maintain those jobs in Northern New England."
Solidarity with St. Vincent's Nurses On Strike in Massachusetts
[caption caption="St. Vincent's nurses on strike. Photo courtesy of Massachusetts Nurses Association" align="center"]
[/caption]
More than 700 nurses at St. Vincent's Hospital in Worcester, Massachusetts have been out on strike for over four months and they need our support and solidarity. The Massachusetts Nurses Association members are seeking to raise staffing levels in order to improve patient safety, but St. Vincent's for-profit parent company, the Texas-based Tenet Healthcare, is refusing to budge, despite tripling its profits while receiving $850 million in federal stimulus money during the pandemic. The company has also spent more than $75 million to prolong the strike, even though a fraction of that money could have been used to improve staffing levels.
Tenet says it has already permanently replaced about 100 of the striking St. Vincent's employees and is threatening to replace more. In a recent column, Mark Dudzic of the Labor Campaign for Single Payer and labor activist Rand Wilson compared the present moment to when President Ronald Reagan's fired over 11,000 striking air traffic controllers on August 5, 1981, which inspired a wave of corporate union busting that set the labor movement back decades. Companies across the United States are watching what happens at Tenet as vicious union busting campaigns are also being carried out against striking coal miners in Alabama, steelworkers at Allegheny Industries and refinery workers at an Exxon/Mobil facility in Beaumont, Texas.
"This is his chance to send a message to Tenet and corporate America that there's a new sheriff in town," they wrote. "We need to challenge the Biden administration to put its money where its mouth is and to intervene forcefully in this conflict. The President must make it clear that permanently replacing lawful strikers is contrary to the policy of the U.S. government."
New Unemployment Reform Law Is a Huge Win for Working Mainers
Governor Janet Mills has signed LD 1564, which will help fix the state unemployment systemand support workers in seeking good paying jobs and accessing apprenticeship and workforce training programs. At the height of the COVID-19 pandemic last spring and summer, thousands of Mainers struggled to receive unemployment benefits due to understaffing, a flood of claims and an urgent need to modernize Maine's unemployment system. Several of those Mainers testified in support of LD 1564 during the public hearing for the bill.
"This is one of the most significant and meaningful pro-worker reforms to Maine's unemployment insurance system in decades," said Cynthia Phinney, President of the Maine AFL-CIO. "LD 1564 was developed with input from hundreds of Mainers we assisted during the pandemic. It will modernize Maine's unemployment insurance program to ensure that Maine workers will receive timely and adequate unemployment benefits and that our system runs smoothly to help people get back into good paying jobs and high quality apprenticeship and training programs." 
Pro-Labor Bills Become Law; Others Vetoed
[caption caption="Governor Janet Mills" align="center"]
[/caption]
LD 190: Retirement Fairness for Corrections Workers - AFSCME Council 93 and AFSCME 2968 worked hard to pass this bill. It includes additional corrections workers in the State pension plan in a way that enables them to retire with dignity, recognizing the difficult and dangerous work they do. The bill was sponsored by Senator Troy Jackson and signed into law by Gov. Mills. 
LD 198: Central Labor Council Tax Equity Bill — Governor Mills has signed a measure that allows Central Labor Councils to receive a property tax exemption, as Chambers of Commerce already do. The Eastern Maine Labor Council in Brewer is the only such building in the state of Maine and performs outstanding services to workers and the greater Bangor/Brewer community.
LD 469: Strengthening safety training — This bill, which requires contractors on public works projects to certify that all workers have attended an OSHA 10 training, a 10-hour safety program approved by the Occupational Safety and Health Administration, has become law without the Governor's signature. The bill is critical because the construction industry can be extremely dangerous, no matter where or for which trade one is working. Building Trades have been trying to pass this legislation for decades.
LD 677: Strengthen collective bargaining rights — Governor Mills has vetoed LD 677, which would improve collective bargaining for public sector workers. The bill would encourage good-faith negotiations in public sector contract negotiations by making the arbitration process binding on economic issues like wages, insurance and retirement. The Legislature will take up the veto on Monday, July 19, but it's unlikely there are enough votes to override it.
LD 1711: Whistleblower protection — Governor Janet Mills has vetoed legislation that would allow workers to join class action suits against employers who break labor laws. LD 1711 would allow employees to bring enforcement actions of employment laws on behalf of the state over wage theft, sexual harassment, racial discrimination, workplace safety and other labor abuses. LD 1711 is an important tool for workers to seek justice when all other avenues are closed to them. The Legislature will take up the veto on Monday, July 19, but it's unlikely there are enough votes to override it.
LD 1411: Buy American bill — Governor Mills has vetoed LD 1411, which would support American manufacturing and job creation in Maine by giving preference to Maine-based businesses, workers and American manufacturing when the state awards procurement contracts. The Legislature will hold an override vote of the veto on Monday, July 19
Let Us Know About Any Workplace Struggles Happening in Maine
[caption caption="Signs left by workers at the Dollar General in Eliot in Maine in May." align="center"]
[/caption]
Over the past few months, restaurant workers, Ogunquit lifeguards, Dollar General employees, Bull Moose workers and others have carried out wild cat actions and walk outs to demand that their employers improve wages, staffing and working conditions. Other workers are in the process of forming unions so they have these demands guaranteed in a union contract.
A combination of the pandemic and economic conditions have given workers a little more bargaining power and many are feeling emboldened to take action after years of suffering low wages and mistreatment. We have been supporting these struggles and pushing out these stories.  Do you know of other workplace actions happening in Maine?  Let us know! We can offer support in a variety of ways to workers, regardless of whether they are in a union or not.