Shalom House Workers File Petition to Form a Union to Strengthen Services, Address Low Pay and Short Staffing
Andy O'Brien
21 Feb, 2023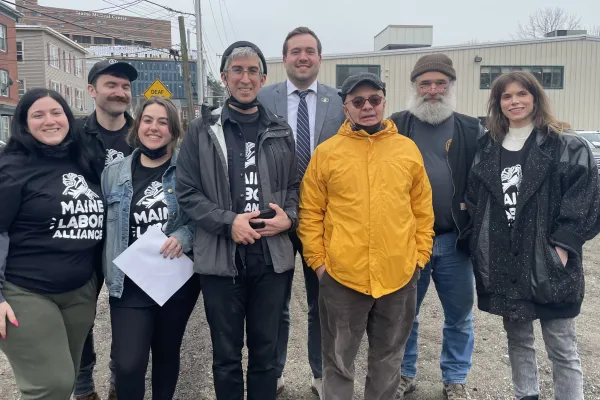 Photo: Shalom House staff with Douglas Born, President of the Southern Maine Labor Council, Mike Seavey, Maine AFL-CIO Faith and Labor Liaison, and State Rep. & Labor & Housing Committee member Charles Skold (D-Portland)
 On Friday afternoon, residential and client services staff at Shalom House in Portland announced their effort to form a union, Shalom House Workers United (SHWU) with the Maine Service Employees Association (MSEA-SEIU Local 1989). A strong majority of approximately 150 staff across all of Shalom House's client-facing programs, including a supermajority of full-time staff, have indicated their support for unionizing and have filed for a union election with the National Labor Relations Board (NLRB). Shalom House employees are the latest group of social service workers to organize with MSEA in southern Maine, joining staff at Preble Street, Planned Parenthood, SASSMM, and the ACLU of Maine. 
"We form strong bonds with our clients," said Bob Black, relief staff at Shalom House. "We're often their main or only support system. And when we're not being paid a living wage, and we're not being treated with regard for our own well-being, people leave. And usually we don't want to leave. When this happens, our programs lack stability, we are less able to provide a continuity of care, and our clients suffer for it. Shalom House Workers United will prioritize improvements that will strengthen our programs and help clients access the quality of care they deserve."
Shalom House, a social service agency that supports individuals with a history of mental health challenges and homelessness, offers a range of supported housing options, including group homes and independent apartments. Several other programs, including voucher assistance and case management, also make up Shalom House's client and residential services. Staff emphasize that improvements they make through organizing will only improve client care and services. 
Improving working conditions is also at the root of the organizing, said Krystina O'Sullivan, Residential Support Worker at Shalom House. "We need better training so everyone has the skills they need to be successful at work from day one, we need higher pay so we don't have to work two or three jobs to make ends meet, and we need staffing levels that allow us to take time off and care for ourselves. When this isn't happening, we burn out and good employees leave. That just makes hard conditions even harder for those of us that stick around. Our union will take on that cycle of burnout and work to make sure that jobs at Shalom are sustainable and secure in the long run. Most importantly, when our jobs are sustainable, clients succeed."
On Friday afternoon, a group of workers approached Shalom House management to express their intention to organize and request that management commit to neutrality throughout the election process. They were joined by Doug Born, President of the Southern Maine Labor Council, Mike Seavey, Maine AFL-CIO Faith and Labor Liaison, and Rep. Charles Skold, Maine State House Representative and Labor & Housing Committee member. 
In a statement read aloud to management on Friday, workers emphasized that "This is about making the bigger picture changes that we need to protect what we love about working at Shalom House, and to have a voice in decisions that deeply impact our lives at work... We know that our community has our backs, and would be so excited for Shalom House management to take a collaborative, good-faith approach to our organizing."
In the coming weeks, the NLRB will determine the time and method of Shalom House workers' union election.