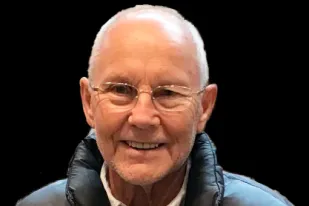 We send our condolences to the family of former United Food & Commercial Workers leader Steve A. Buzzell of Saco, who passed away on November 16. He was 82. According to his obituary, Buzzell was born on April 19, 1940, attended Saco schools and graduated from Thornton Academy in 1959. He attended Northeastern University for two years and York County Community College for two years. He served in the US Army stationed in Germany for 1962 to 1964.
Buzzell then started work as a meatcutter for First National Stores and became involved in the Meatcutter's Union. He was elected as a Trustee for the Local 385 Executive Board in 1977 and was instrumental in organizing an opposition slate of officers in 1979 that successfully swept out the incumbents in 1980.
After Buzzell was elected secretary-treasurer, Local 385 merged with Local 1445 of the United Food and Commercial workers Union out of Boston. He finished his career as a Business Agent and Labor Negotiator and was a tireless advocate for members. One of his many achievements included helping Maine AFL-CIO staff organize a union with UFCW 1445. He retired from the union in 1998. Steve and his wife also owned and operated the Sir Charles Motel on East Grand Avenue in Old Orchard Beach.
He is survived by his wife of 57 years Jean Buzzell, a son Mark Buzzell and his wife Jennifer.