Portland Food Service Workers Discuss Workplace Challenges & Unionizing in Film "City of Servers"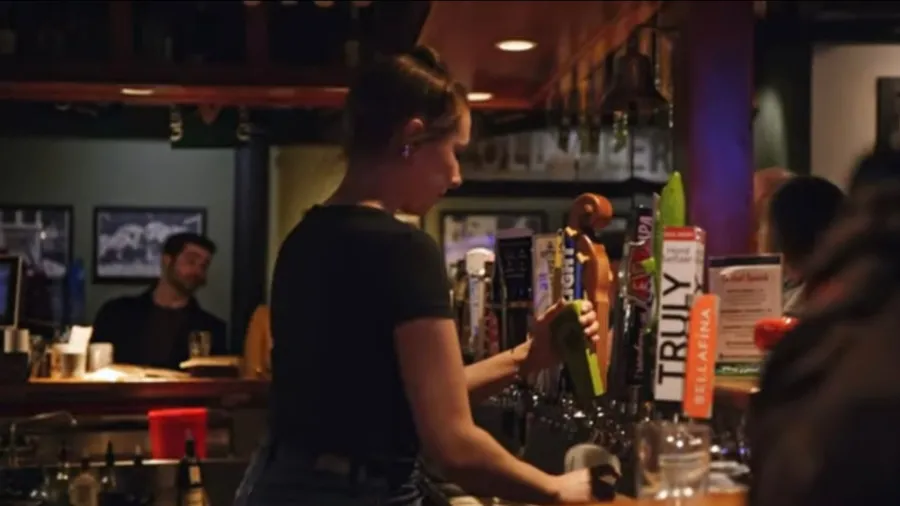 A new film featuring the working class service workers who fuel Portland's restaurant industry is now streaming for free on YouTube. In "City of Servers," director and producer Elora Griswold features interview with bartenders, servers, a city councilor, restaurant owners and former Starbucks worker organizer Ash Macomber about workers struggles and the class divide in Maine's largest foodie scene. While tourists to experience the destination that has frequently been named the "top food destination in the country," but seldom do hear from the food service workers themselves.
In Griswold's film, female wait staff discuss how the power dynamics of their jobs make them vulnerable to sexual harassment. Shayleigh Crowley, a bartender at Three Dollar Dewey's in Portland, describes how male customers sometimes make unwanted comments about her body and even attempt to touch her.
"I don't like to say that it's an occupational hazard because that shouldn't be an occupational hazard for anybody, but again it is something that you develop your own ways of kind of handling in the moment and coping with personally," she says. "You really lean on your peers."
One of the top complaints of restaurant workers is their inability to find affordable housing in the rapidly gentrifying city. As investors scoop up housing to turn into high-priced rentals and Air BnBs, the city's lowest wage employees are forced to spend larger and larger portions of their incomes on rent while living in crowded apartments with multiple roommates.
"I feel like it's incredibly difficult to find consistent housing…. and it's unfortunate being the people who made this city so cool and trendy for the people who have now moved here and displaced us," said bartender Chyle Cameron.
Workers also discuss the failure of last year's municipal referendum that would have raised the minimum wage to $18 and removed the lower wage floor for tipped workers. The pro-referendum side got swamped by hundreds of thousands of dollars from large out-of-state corporate donors including Uber and Door Dash as well as local donors like restauranteur Steve DiMillo, Gritty McDuff's, the Portland Community Chamber and Hospitality Maine. At the same time, workers in the film acknowledge that raising the tipped wage divided restaurant workers, because some believed,erroneously, that they would earn less under the proposal.
Three Dollar Dewey's owner Joe Christopher presents a typical business class view that nothing should change and if restaurant workers can't afford to live in the city they should move somewhere else. However, Starbucks barista Ash Macomber offers an alternative solution: unionizing.
"We've had the same working conditions in this industry for such a long time and nothing has really changed," said Macomber. "I had to gauge how everybody in my shop felt for a little while and I found that most us were fed up with most of the same things that I was like 'hey we can do something about this. It doesn't have to be this way.' And they were like 'yeah!' So I was like, 'let's form a union.'"
From Portland City Councilor Victoria Pelletier to Cameron the bartender, there is broad agreement in the film that there is a lot of potential for unionizing in the city's restaurant industry.
"I think it's definitely possible, says Cameron. "I think every group of workers should have a union at some point. The only people who are going to protect the workers are the workers.