Over 1,100 State Workers Send Letters Asking Gov. Mills to Close the Pay Gap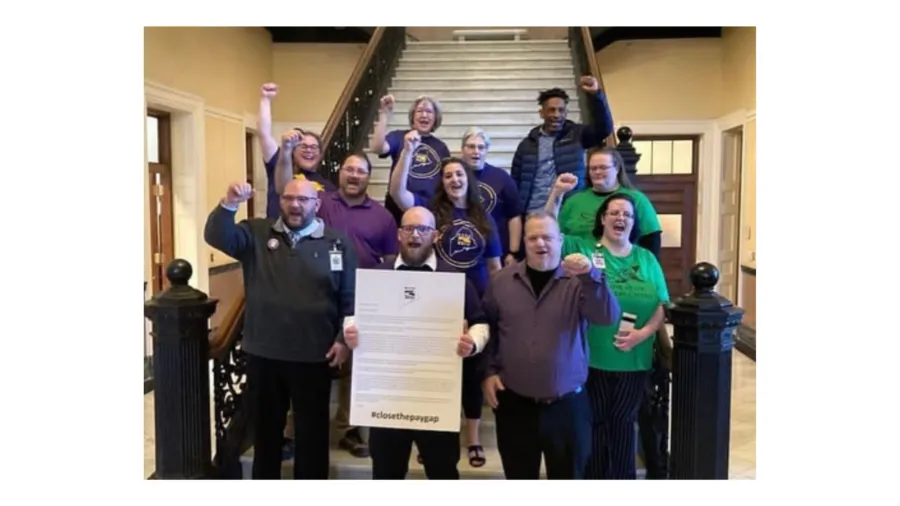 PHOTO: MSEA members at the State House Wednesday.
A delegation of state employees with the Maine Service Employees Association (SEIU-1989) delivered over 1,100 letters from their coworkers to Governor Mills on Thursday asking her to close the state employee pay gap. The letter delivery came as state workers in the Executive Branch of Maine State Government began their fifth month of working without a contract. The Mills administration and the workers are in contract negotiations via a mediator.
"Throughout all departments of Maine State Government, our worksites are understaffed and we are underpaid and overworked," the state workers wrote to Governor Mills. "All the while, the State has record budget surpluses that have come at the expense of substantially underpaying us for the quality services we consistently provide to all Maine people."
The workers noted that state studies in 2009 and 2020 show that state workers are underpaid compared to the wages earned by their public and private sector counterparts throughout Maine and New England. With one in six positions in state government vacant – that's over 2,100 vacant state jobs – state workers are asking Governor Mills to close the pay gap and ensure Maine State Government has the appropriate staffing levels to provide quality services to all Maine people. The record state budget surplus is a direct result of underpaying state workers for decades.
"We, the ordinary state worker, are picking up the work of the vacant positions, working many extra hours even though we don't qualify for overtime or compensation time, concerned about providing the services we know are essential and critical for our friends, family and communities," said Morgan Dunton, a member the MSEA bargaining team and an interdisciplinary instruction specialist for the Maine Department of Education. "We are exhausted, distressed and frustrated. We are asking Governor Mills to protect state services and respect state workers by providing competitive wages and improving the working conditions in our agencies."
 
MSEA-SEIU Member Mark Brunton, who also serves on the union's bargaining team and is president-elect of the union, said the Mills administration did not "unilaterally create the pay gap, but it has failed to adequately address it.
"The pay gap exists and it's growing. We have made reasonable proposals for the improvement of working conditions and for wage increases to close the pay gap to put state workers on par with their peers," said Brunton. "Management so far has refused to make significant movement toward agreement at the bargaining table."