NH Bull Moose Workers Enjoy Benefits of Union Contract
Andy O'Brien
23 Sep, 2022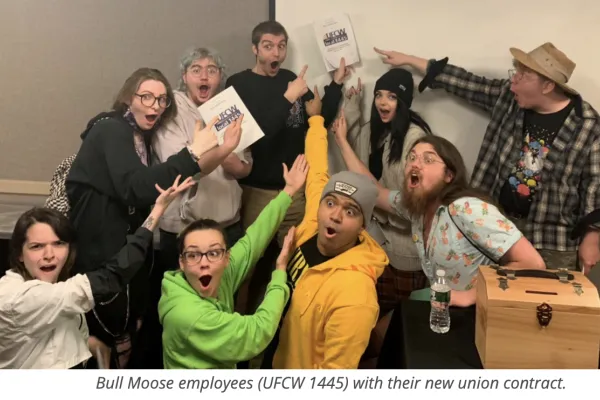 One year ago, retail workers at the Bull Moose Music location in Salem, New Hampshire voted unanimously to unionize with United Food & Commercial Workers Local 1445 after the company fired workers in May, 2021 for taking collective action over COVID-19 safety risks in the workplace. Customers and the local community stood with workers unjustly fired and Bull Moose responded to the backlash by offering to rehire the workers the following month. 
However, the Bull Moose employees knew that the only way conditions would permanently improve was to unionize and secure a union contract.  After ratifying a contract last spring, the staff at the Salem store are enjoying the benefits of their hard fought struggle. 
"The only way to hold companies to their word is to get it in writing in a contract so you know that you have those protections should anything go wrong," said Bull Moose employee Whitney Villers, a shop steward with UFCW 1445. "The most important win for us was getting security, knowing that we will be safe in our jobs and not having to worry about losing them. Retail workers deserve to be treated decently and I feel like we've been able to achieve that through this process."
Currently, the Bull Moose in Salem, NH is the only unionized store out of 11 locations in Maine and New Hampshire, but Villers said they would love to speak to other Bull Moose employees to tell them about the benefits of joining the union.
Under the new contract, the Salem Bull Moose workers finally have scheduled annual wage increases. Previously they would move through all classifications within the year, receiving 50 cent or $1 an hour raises before they hit the ceiling. Prior to the new contract, starting wages were just $13, but after the workers unionized, the company raised it by $1 for everyone throughout the company, including at non-union locations — a common tactic to quell unionization efforts at non-union shops.
In addition to standard union protections, the Salem workers also have a new bereavement policy for employees who have suffered the loss of a loved one to take time off. According to UFCW 1445 business agent Mat Farrell, it was particularly difficult to negotiate with the company around paid vacation and sick time, but now Salem staff will be able to receive all of their vacation pay upon leaving employment.
"These workers were just happy to have it in writing because this company was constantly tweaking and adjusting its policy book up until the point where we were actually in negotiations and they rolled out a whole new book," said Farrell. "We were like, "What the hell is this? You can't do this."
After the workers threatened to file an unfair labor practice charge with the National Labor Relations Board, the company backed down for the constant policy changes.
The Salem UFCW 1445 members are pleased to have the addition of a "no lockout" clause in the contract as they had all been previously fired en masse when the company learned of their plan to take collective action.
"A lot of people look at the no strike clause as a disadvantage but for these workers the "no lockout" piece was huge because they all got fired over email," said Farrell. "I had never gone to a ratification meeting to discuss "no strike/no lockout" clause and had people saying "f—- yeah!" They were psyched about that because they had lived it."
In the middle of negotiations earlier this year, the company also attempted to throw a monkey wrench in the process by making all of the other store locations "employee owned," meaning that the non-union stores would have the additional benefit of an employee stock ownership plan, or ESOP, which is basically just a retirement plan tied to the success of the company.
While ESOPs can be a great additional benefit for some workers, several anti-union employers in Maine promote their ESOPs as way to discourage their "employee-owners" from unionizing and winning real power in the workplace. ESOPs also serve a public relations tool when companies receive bad press, as Bull Moose did. Under the plan, the workers don't have direct shares in the company. Instead the shares are held in a trust and workers aren't vested in it until they work at the company for five years. The Salem Bull Moose workers immediately saw through the PR stunt.
"In general I don't trust companies and this experience really exposed to me just how evil they can be. So immediately when I heard about the ESOP proposal I was like 'what is the catch?'" said Villers. "We have a pretty high turnover rate at the stores and most people don't stay that long. Even then it was a very, very small sliver of a percentage of profit sharing based on the amount of revenue and work we put in. Even though we would have some kind of ownership of the company, it was so minuscule and came with so many disadvantages that it's just not worth it."
At 22 years old, Villers says she is the oldest employee at the store and staff typically only stay there for four or five years, so most employees wouldn't benefit much from the ESOP. Meanwhile, she says relations between the company have improved.
"Things have started to settle down, but that's only because we finally have a contract," said Villers. "I don't know where we would be and if we would still be there had we not unionized and won a contract. Even though we had to fight the company for it, it's something that was definitely worth it. I think everyone should have a union to hold employers accountable and make sure they are treated fairly."
If you work at Bull Moose and are interested in organizing or know someone who does, let us know!