MSEA SEIU 1989 Member Steven Keaten Loves Knocking on Doors for Pro-Worker Candidates
Andy O'Brien
23 Sep, 2022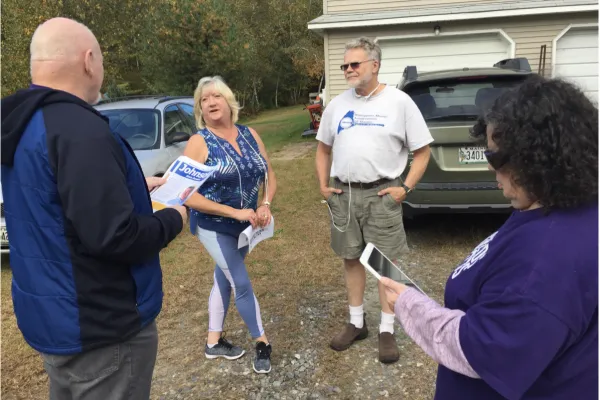 Retired Maine Service Employees Association member (MSEA-SEIU 1989) Steve Keaten always looks forward to knocking on doors and discussing the upcoming elections with union members. No matter if it's rain or shine, Steve has been out with fellow MSEA member Jane Gilbert to talk about some of our endorsed candidates for the Maine Legislature and Governor's office who have pledged to support workers' right, fair wages and economic security for working people.
"I just think it's fun to do," he says. "I get out and talk to people, get a little bit of exercise and some fresh air, see the countryside and get to places I never thought I'd be before."
Keaten first started campaigning door to door in 7th grade for one of his teachers who was running for the Legislature at the time. During the 2004 election, he started regularly knocking on doors as part of SEIU's Heroes program during. While some might find the idea of walking up to people's homes intimidating, Keaten says he enjoys speaking member to member and letting union voters know what's at stake for them.
"I think they want to hear from us," he says. "90 percent of the time they're good conversations. The other ten percent of the time you may get someone grouchy but you just have to let it roll off your back."
He says he's been very encouraged by the high level of support union voters have expressed for pro-labor candidates and often people thank him and sometimes offer him a cold beverage on hot days. Keaten says that he finds members sometimes don't know about some of the major improvements Governor Mills and the Legislature made to retiree pensions, including a $25,000 tax exemption for retirement benefits. 
"They've been pleasantly surprised to hear about that," he said.