Milk with Dignity Continues Fight for Farmworker Rights
Andy O'Brien
05 Jan, 2023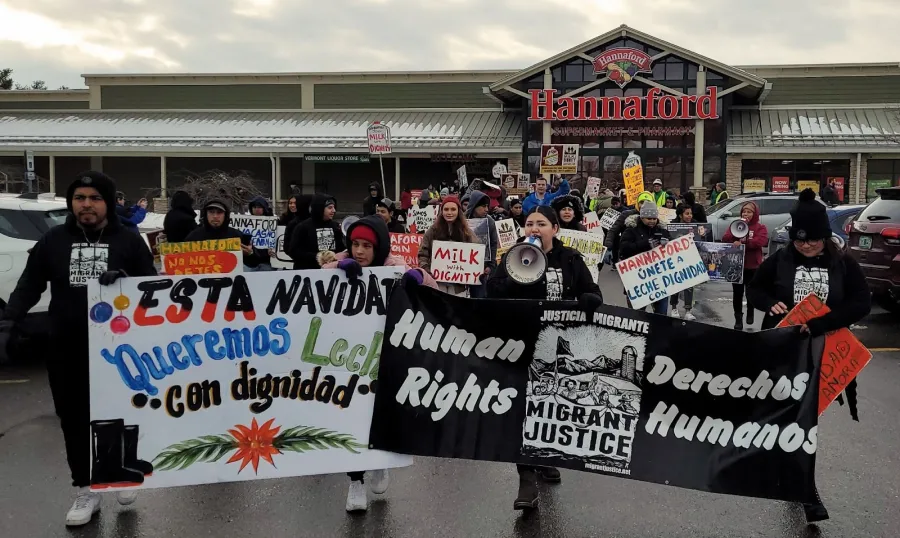 The "Milk with Dignity Campaign" continues to make progress in the fight for human rights and economic justice for farm workers in Maine and New England. As it noted in its year in reviewworkers continues to pressure Hannaford Supermarkets to sign on to a legally binding agreement to source its milk from farms committed to strong labor standards and dignified working conditions.
"We ended the year on a high note, with a spirited march through the snow leading to a boisterous rally in front of Hannaford Supermarkets. As Hannaford representatives once more threatened marchers with arrest, dairy workers stood firm and courageously shared testimonies about the atrocious conditions they experience in the company's dairy supply chain," the campaign organizers wrote.
"Since Hannaford created a hotline for its supply chain workers last year, dairy workers have submitted complaint after complaint about violations of Hannaford's own supposed "standards of engagement" – all without remedy," they continued. "At the conclusion of the march, workers presented these complaints in person, exposing the shocking conditions behind Hannaford-brand milk.
"Workers' descriptions of conditions in Hannaford's supply chain include:
"We work 12-14 hours a day without a meal break. We only have half a day to rest per week."
"We are 7 adults and 2 kids in a crowded house. There are kids living here in an unhealthy situation. There is black mold."
"Working schedules don't allow us to have a day off, not even while sick. One day I got sick and couldn't go to work. That day I wasn't paid."
"I fell and injured my arm, and I was in pain. I asked my employer to give me time off to recover and go to a doctor. He told me: 'I'm sorry, there is nobody to cover for you.' So I had to go to work in pain."
"The house has a broken window where the snow enters during the winter. We have to put in electric space heaters to stay warm, but our employers get mad and don't let us keep them. The stove doesn't work, and the bathrooms are in bad condition. The house is made for five people but eight of us live here."