Meet the Union Members Who Convert Trash to Energy at ecomaine
Andy O'Brien
06 Jan, 2022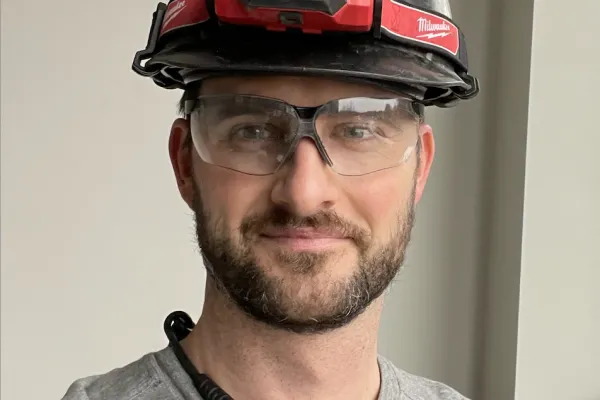 You probably don't think about where your trash goes after you take it to the dump or leave it on the curb to be picked up, but if you're in one of the nearly 70 communities served by ecomaine, it will eventually be handled by members of Operating Engineers Local 877+4. Portland-based ecomaine is a quasi municipal-owned solid waste facility that includes a 15 megawatt waste-to-energy plant, single-sort recycling and a landfill owned by 20 Southern Maine towns. 
The company adheres to the federal Environmental Protection Agency's sold waste hierarchy guidance, which prioritizes reducing waste, reusing resources, recycling, composting or digestion of organic waste and creating waste-to-energy before landfilling as a last resort.
"We have the ability to take in something that nobody wants and make it into power while reducing the mass of the waste by 90 percent. What comes out the stack in 90 percent water vapor," explained Jonny Miller, an ecomaine electrician and assistant steward with Operating Engineers 877+4. "Every county in Maine should have one of these facilities."
Ecomaine, originally called Region Waste Systems, was founded in 1976 by the municipalities of Portland, Cape Elizabeth, Scarborough and South Portland in response to a new Maine law that called for the closing of privately owned landfills. Two years later the coalition purchased 240 acres in South Portland and Scarborough for a jointly owned landfill. By 1985, the organization had grown to 20 municipalities. It built the waste-to-energy plant in 1988 in order to use municipal waste as fuel to generate and sell electricity and greatly reduce the amount trash it had to landfill. In the early 90s, workers there formed their union with the Operating Engineers (IUOE).
The 40 union members at the ecomaine facility include mechanics, electricians, instrumentation and controls techs, crane operators, truck drivers, plant operators and others who move around trash and dump it into the hopper. Miller says that the workers and the company take health and safety very seriously, but he's grateful that it's a laid-back environment and the work is always interesting. Previously he was a member of IBEW 567, but had to take a non-union job to be closer to home. Miller said on one level he kind of enjoyed bargaining for himself, but prefers to work union.
"I really like that as union members we stand together and that turns the company's head more than when you're just bargaining for yourself," he said. "When you're doing non-union work, often employers feel like they can talk to you however they want. Foremen can be a little more rude and crass. When you're in a union you know someone's got your back."
Miller said he's hoping to get a better overtime agreement in the next contract in 2023, but the benefits in the current union contract are still much better than in any job he's ever had. 
"So many people don't really understand full circle what it means to have a union," he said. "In a perfect world we would be able to go out and tell people exactly why they are important, starting with the history of organized labor. People who are not in unions get the benefits of better wages, workplace safety and benefits because of what union members have fought for.  But it's also very daunting to create a union from nothing, so if you're a non-union worker you need some reassurance that it is possible. We need to educate and make people aware that they too can do it."