Maine's Community Care Workers Demand Equity & Respect
Andy O'Brien
18 Nov, 2022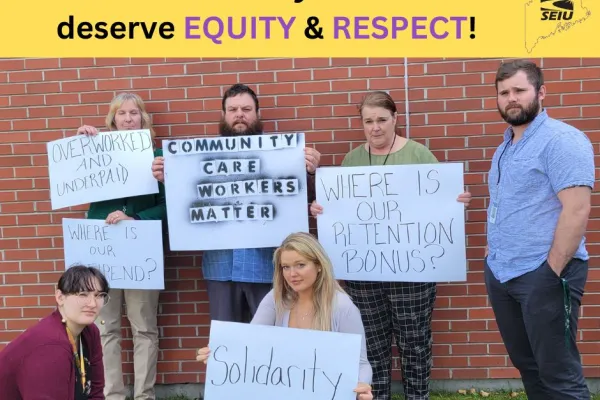 For over a year, dozens of community care workers in the Maine Office of Child and Family Services within the Maine Department of Human Services have been providing 24/7 care for children in state custody without placement options. These Maine Service Employees Association (MSEA-SEIU 1989) members routinely spend nights or days in emergency rooms or hospitals caring for children in state custody — and then complete their regular hours engaging in kinship assessments and family reunifications.
According to MSEA, Maine DHHS management added emergency care to the community care workers' responsibilities as a way to reduce the high level of burnout among Maine DHHS Child protective caseworkers and case aides who have been providing this emergency care on top of their workloads. Now the community care workers are also overwhelmed and at risk of burning out.
"Management knows providing 24/7 care in emergency rooms and hotels is difficult and exhausting work for Maine DHHS workers; that's why child protective caseworkers and case aides will get a $1,000 stipend," the union wrote in a statement. "However, when the community care Workers asked Maine DHHS to pay them the same $1,000 stipend for the same emergency care, management on September 26 denied their request."
Join us in demanding equitable treatment for Maine's Community Care Workers; show your support by liking and sharing this post.