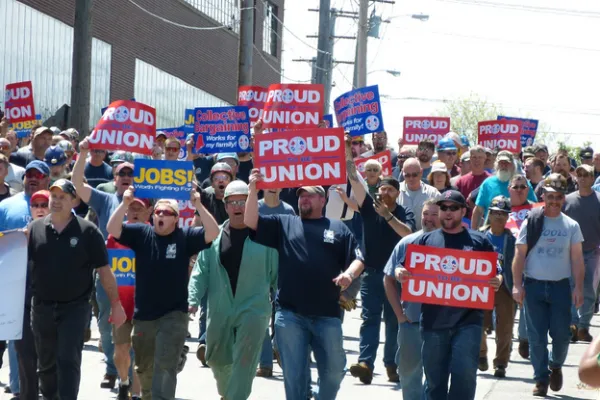 IN THIS EDITION:
Union Membership in Maine Increased in 2020
Register for Maine AFL-CIO's Labor Winter Institute
Please Support IAM S6 Member Who Was Critically Injured on the Job
Has Your Employer Refused to Pay Vacation Pay?
Maine AFL-CIO Applauds Firing Anti-Union NLRB Official
IBEW 2327 Wins Better Broadband for Mainers
Union Membership in Maine Increased in 2020
[caption caption="IAM Local S6 members rally in 2015." align="center"]
[/caption]

Union membership in Maine grew by 13,000 members in 2020, marking a 3 percent increase from 2019, according to new data from the U.S. Bureau of Labor Statistics. Union density rose from about 12 percent in 2019 to 15 percent in 2020. The report also findsthat nearly 17 percent of Maine workers in 2020 were represented by unions — an increase of 3 percent from 2019. Maine's union density outpaced the national average of 10.8 percent, which increased by 0.5 percent in 2020.
"More and more Maine workers are organizing and fighting for better wages, working conditions, safety on the job and democracy in the workplace," said Cynthia Phinney, President of the Maine AFL-CIO. "The pandemic has reminded all of us that working people are essential."
The Maine AFL-CIO attributes the growth in union membership in Maine to three factors: 1) increased internal organizing in already organized public sector and federal sector workforces; 2) new union organizing; 3) increased hiring in essential unionized sectors of the Maine economy. Increased overall density can be attributed to all of these factors plus significant layoffs in non-union sectors of the economy due to COVID. 
The BLS report also found that among full-time wage and salary workers, union members earned 16 percent more than non-union members. In addition, BLS has also reported that union members are far more likely to have employer-provided health care and retirement benefits. 
Register for Maine AFL-CIO's Labor Winter Institute 
Maine AFL-CIO will be holding a series of educational events to bring us together to learn, discuss, and grow our visions for our labor movement in February and March. You are welcome to attend as many events as you like – it's not necessary to go to all of them (although they will all be excellent!) BUT you must register separately for each event you wish to attend. All events are on Zoom and links to register are in each event description. There is no charge to attend the events, all costs covered by the Maine AFL-CIO. 
Thursday, February (Date/Time TBA) — Organizing & Winning in the Time of COVID: How People First Portland Organized & Won Pro Worker Reforms
Wednesday, February 17, 2021 – 12:00-12:50pm — President's Lunch & Learn: Briefing on the PRO Act.
Thursday, March 4, 2021 – 6:30-8:00pm: Real Talk, Real Experiences: Racism and Discrimination in Maine with members of A. Phillip Randolph Institute, Maine Chapter.
Thursday, March 18, 2021 – 6:30-9:00pm: "The Moment Was Now" — Showing of the musical play "The Moment Was Now" followed by a discussion with playwright, Gene Bruskin.
Thursday, March 25, 2021 – 6:30-8:00pm — Unions & Democracy – a history and discussion with Maine Labor Historian Charlie Scontras.
Click here for more information about the events and to register!
Please Support IAM S6 Member Who Was Critically Injured on the Job
Machinists Local S6 has created a GoFundMe fundraiser for ship fitter Garret Lynn Bailey who was tragically injured on the job at Bath Iron Works last Saturday. According to IAM S6 leaders, Bailey has been through several surgeries and medical procedures since the accident. They said "his injuries are some of the most severe Local Lodge S6 has ever encountered."
"The goal of this campaign is to spread awareness of this tragic situation to all our brothers and sisters, so we can provide financial support to the Bailey family for any/all of their needs," IAM S6 leaders stated. "All proceeds will be given directly to the family from Local Lodge S6 to help ease the situation."
Please click here to donate what you can to the Bailey family.
Has Your Employer Refused to Pay You Earned Vacation Pay? Let us know!
Maine AFL-CIO is working on legislation to guarantee the right for workers to receive their vacation pay after leaving their employment as Maine law does not provide a right to vacation pay. This is unfair because it leaves workers who have earned vacation pay and take a different job, are laid off or otherwise end their employment without a guarantee that their vacation pay will be paid out. 
We already know of one story where a worker was paid only 30 days out of 178 accrued vacation days at the time of his retirement. Vacation pay is wages earned and should be paid out in full upon the cessation of a worker's employment. Any employment agreement that fails to pay vacation pay in full at the end of a worker's employment is essentially legalized wage theft.
Have you ever lost your vacation pay at the end of your time at a job? We'd love to hear your story.  Does your contract not provide a guarantee that vacation pay be paid out when you leave work or retire? Let us know! Email adam@maineaflcio.org
The public hearing on this bill is scheduled for Wed. Feb. 10, 11am. Let us know if you would like to testify.
Maine AFL-CIO Applauds Firing of Anti-Union NLRB Official
[caption caption="Anti-union NLRB General Counsel Peter Robb" align="center"]
[/caption]

As one of his first acts in office, President Biden fired National Labor Relations Board (NLRB) General Counsel Peter Robb. Robb, a notorious anti-worker attorney, refused to resign his position voluntarily. In the 1980s, he served under President Reagan and was deeply involved in the effort to bust the air traffic controllers union. As general counsel, he had an enormous amount of power to pursue his anti-worker agenda.
"A union-busting lawyer by trade, Robb mounted an unrelenting attack for more than three years on workers' right to organize and engage in collective bargaining. His actions sought to block millions of workers who say they would vote to join a union today and violated the stated purpose of the National Labor Relations Act — to encourage collective bargaining," said Maine AFL-CIO President Cynthia Phinney. "It's a new day. Robb's removal is an important first step in supporting workers' rights. We look forward to building on this victory by securing a worker-friendly NLRB and passing the PRO Act so all working people have the freedom to form a union."
IBEW 2327 Helps Secure Better Broadband for Internet Customers
IBEW 2327, which represents telecommunication workers in Maine, played a key role in ensuring customers were protected in a recent $425 million investment by hedge fund Searchlight Capital Partners into telephone and Internet provider Consolidated Communications. The deal had to first be approved by Maine utility regulators because the hedge fund will refinance  Consolidated Communications' outstanding debt and obtain a controlling interest in the company. As part of the deal, the company will be installing 4,000 miles of high speed fiber optic cable through western Maine as part of a 5-year project to construct a total of 11,000 miles of fiber through Maine, New Hampshire and Vermont.
Pete McLaughlin, business agent for IBEW 2327, said the union intervened in the case because Searchlight had previously invested in another telephone company that ended up going bankrupt. 
"When we heard about this investment we wanted to make sure that the same thing wasn't going to happen to Consolidated," said McLaughlin. "In the end, we feel like this is a pretty good deal."McLaughlin noted that the town of Rangeley is now considering entering into a public-private partnership with Consolidated Communication to build a fiber network, which IBEW 2327 members will maintain.