Madawaska Paper Worker Lobbies Congress to Support Paper Industry
Andy O'Brien
26 May, 2023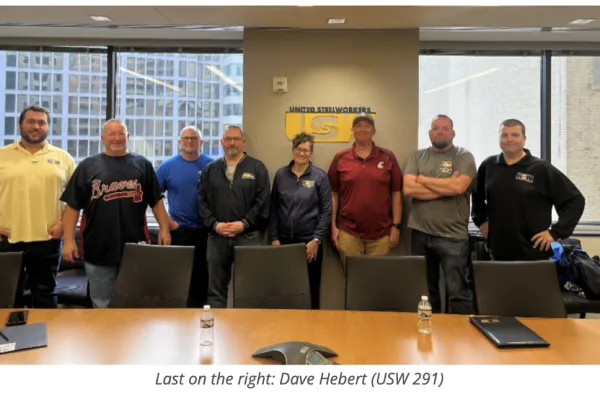 Late last month USW Local 291 financial secretary Dave Hebert joined several paper union leaders from around the country in Washington DC to lobby Congress on key legislative issues to strengthen workers' rights and support the paper industry. The group met with bipartisan members of Congress from the local leaders' respective home states, including Sen. Angus King, Sen. Susan Collins and Rep. Chellie Pingree (D-ME-01).
"The experience was amazing. We all had some pretty positive results and feedback from our meetings," said Hebert. "It was my first time in DC and it was really surreal standing in front of the capitol, the Washington Monument and the Lincoln Memorial. Unfortunately it was a very busy schedule so I didn't have a lot of time to gander around much."
The union leaders lobbied members of Congress to support the PRO Act, which would empower workers to exercise their right to organize, hold employers accountable for violating workers' rights and secure free, fair, and safe union elections. The group also urged Congress people to ensure that Package Inserts (PI) for Pharmaceuticals remain in paper format in order for healthcare professionals to have immediate access to critical and relevant information, support for the inclusion of language in the upcoming Farm Bill.
Additionally, the group lobbied for funding the implementation of the Lacey Act, which stops the import of illegal timber and related products into the United States. Illegal logging threatens some of the world's most biologically diverse and vulnerable forests, contributes to climate change, harms Indigenous peoples and local communities, and undermines the legal forest products trade by significantly depressing world timber prices.
They also informed Members of Congress on USW's position regarding an EPA proposed rule that addresses the National Ambient Air Quality Standards for Particulate Matter. The USW strongly supports reasonable and well-researched regulations that ensure we have clean air and water, and healthy communities. However, there will be implications for the sectors we represent and for our members' jobs if regulations are not fully vetted and sized.