Local S6 Women's Committee Builds Worker Power & Supports Families in Need
Andy O'Brien
08 Sep, 2023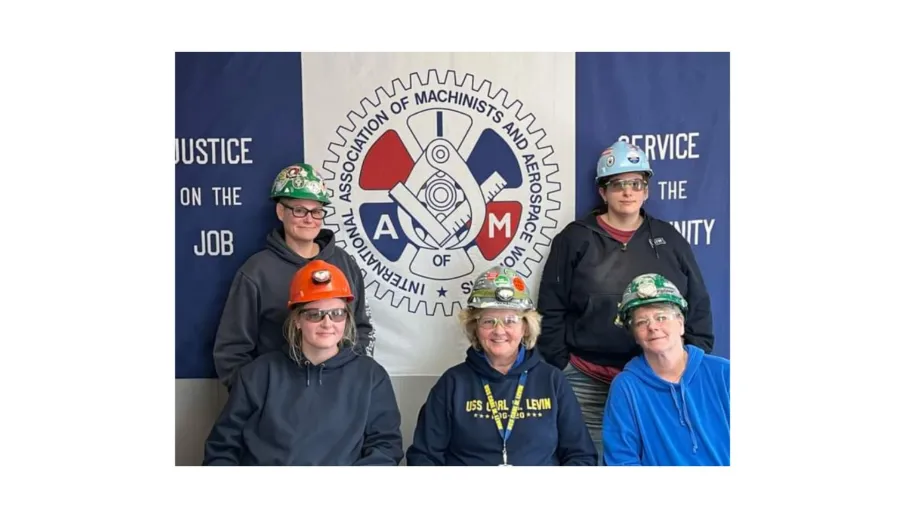 For more than 25 years, the Women's Committee of the International Association of Machinists and Aerospace Workers (IAMAW) Local S6 has been providing a voice for union women, raising money to help vulnerable people in the community and building power in their union. Founded in mid 1990s, the Women's Committee was established to ensure that women had fair representation at a time when more and more of them were entering the workforce at Bath Iron Works.
"The role of the Women's Committee is specifically to support women, but we're always here for all our members, no matter what gender or how they identify. We just want a strong, solid union," said Women's Committee member Tarra Sheerer.
"We treat everyone equally no matter who they are," said April Austin, Chairwoman of the Women's Committee.
The Local S6 Women's Committee makes sure feminine hygiene products are accessible at the workplace, handles domestic violence issues and generally ensures all members have a voice in their union.
"A lot of our stewards are male so women don't always feel comfortable to go to their steward for everything they need," said committee member Julie Rogers. "They sometimes come to us to speak about the issues and we act as a kind of go-between."
In the lead up to the union's recent contract ratification vote last month, the Women's Committee also played an active role in distributing information and educating members about the agreement
The group also does a lot of fundraising to support domestic violence survivors, people with mental illness and low-income families in the community. Every October, the committee holds an Annual Domestic Violence Awareness Collection to support survivors of domestic violence. This year all proceeds will go to support New Hope Midcoast (formally New Hope for Women). The committee also holds a month long "hygiene drive" to provide feminine hygiene products to people in need. In addition, the group recently held its first-ever food drive for area food banks.
Local S6 has a longstanding relationship with the United Way of Midcoast Maine and as a recent addition to its board, Sheerer has become more plugged in to the needs in the Greater Bath region. It was there that she got the idea to hold a diaper drive to support low-income families at the Women's Committee's annual Rosie the Riveter Celebration in January. The event — named after the iconic female worker who helped build the arsenal for World War II — is a popular annual party for past and present shipyard workers and their families
"Everyone is invited to the Rosie the Riveter event, but it's usually just shipyard workers because we have a tendency to scare people off," Sheerer laughs. "The O.G. Rosies, the ones who started it all, tend to show up every year and tell stories about the good old days. It's an opportunity for everyone to have some fun, blow off a little steam and meet some people whom they wouldn't normally meet otherwise."
This month, members of the Women's Committee will head down to IAMAW's William W. Winpisinger Education and Technology Center in Maryland for a Women's Leadership Conference.
"We're looking forward to learning a bunch," said Sheerer. "All of the guys in the union hall are saying 'you'll love it!' So we're at the point that we're getting really excited and nervous."