Lobstering Union (IAM 207), Maine Building Trades unions, Maine AFL-CIO Back Proposal to Protect Fishing Jobs & Create Union Jobs in Offshore Wind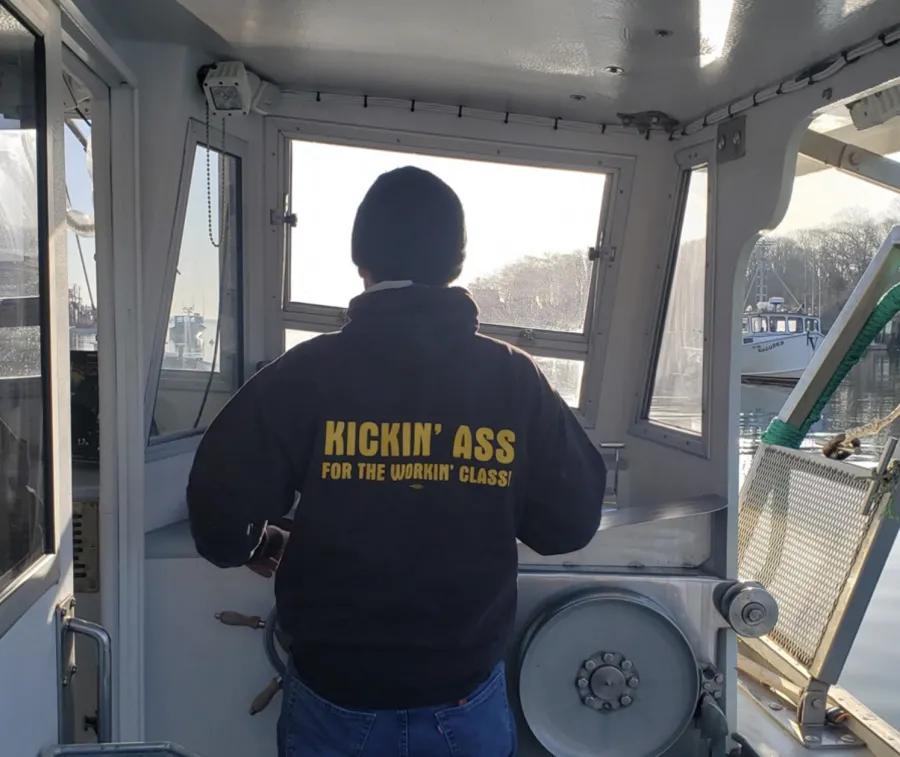 The Maine Lobstering Union (IAM 207) and the Maine AFL-CIO Executive Board have voted to support a proposal that would protect fishing grounds while also allowing offshore wind development in a way that creates good union jobs. The Maine Lobstering Union, IAM Local 207, the building trades, the Maine Labor Climate Council and others have worked tirelessly on the legislation, LR 741, -- with the support of bill sponsor Sen. Mark Lawrence and Senate President Troy Jackson  -- to protect core fishing grounds and set high fisheries, environmental, equity, and labor standards on offshore wind development.
"We applaud the Maine Lobstering Union, Building Trades locals and others for doing the spade work to develop a solid plan for workers that protects Maine fisheries and guarantees good union jobs in the development of this new industry," said Matt Schlobohm, Maine AFL-CIO Executive Director. "When we work together to develop a worker led vision for climate action, we can create new union jobs, protect existing industries and tackle climate change head on."
Sen. Mark Lawrence (D-York Cty.) submitted legislation in January to create a schedule in Maine for procuring offshore wind power after the the federal Bureau of Ocean Energy Management initiated the process to lease federal waters for offshore wind development in the Gulf of Maine. Lobstermen, Building Trades unions, the Maine Labor Climate Council and others worked with Lawrence and Senate President Troy Jackson to come up with the compromise. In a guest column last week, IAM 207 Director Ginny Olsen wrote that the legislation is "our best chance for protecting our industry" in terms of what is likely to happen with offshore wind.
A critical piece of the legislation is that it functionally excludes offshore wind development in Lobster Management Area 1 (LMA - 1), a critical fishing ground for Maine lobstermen and women.  The Maine AFL-CIO's support for the bill is contingent on the inclusion of this language.
"With these two developments under way, the time to act is now," wrote Olsen "…Although our position is nuanced, we do see this legislation – and its clear language that heavily disincentivizes and functionally excludes development of offshore wind in Lobster Management Area 1 (LMA-1) – as the best opportunity to be a part of the coalition to ensure that lawmakers stand with our members and act decisively to protect our way of life."
The proposal would also require project labor agreements for construction work and Labor Peace Agreements (PLAs) for operations, maintenance, and maritime work. PLAs are pre-hire negotiated agreements laying out terms and conditions on a project to ensure that projects are completed on time and under budget using a ready supply of skilled labor paid living wages with benefits.
It would require developers to prioritize the utilization of registered apprenticeship and pre-apprenticeship programs and hiring of Maine residents, indigenous tribal member, and workers directly impacted by the growth of offshore wind energy.
In addition, LR 741 would also protect lobster fishing grounds by incentivizing developers to site wind facilities outside of Lobster Management Area 1. It will require wind developers to invest in local fishing communities and will provide funding for wildlife and fisheries conservation and research and monitoring of impacts to wildlife, fisheries, and the marine environment in the Gulf of Maine.
The Maine AFL-CIO has worked for the last five years to convene unions to develop the labor movement's vision and plan for a worker led climate action plan that tackles inequality and climate change together and creates thousands of union job in the process. This work led to the development of the Maine Labor Climate Council, a union coalition which organizes to carry out this pro-worker vision for climate action.