IBEW 2327 Members Expanding Cutting-Edge High-Speed Broadband Throughout Maine
Andy O'Brien
15 Sep, 2022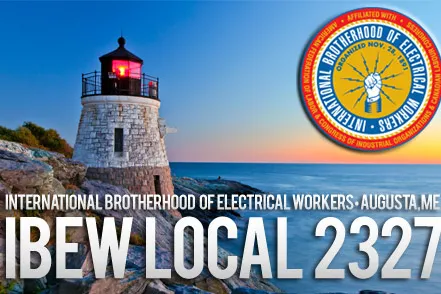 Members of IBEW 2327 who work for the telephone and Internet provider Consolidated Communications have been busy building out a high-speed fiber optic network throughout the state this year. The new project, Fidium Fiber, has already connected customers in about 30 Maine towns and cities, from Portland, Biddeford, Augusta, Waterville and Bangor to Rockland, Blue Hill, Rangeley, Orono and Veazie.
"The feedback we're hearing is that it's a fabulous product. It's very fast and reliable. It's fiber right to your house," said Chris Hodgdon Assistant Business Manager of IBEW 2327. "A lot of people are working from home now, so it's needed more than ever before."
Fidium offers speeds from 50 Mpbs to 2 gigs with upload and download speeds equalized, so if you you buy a one-gig Internet circuit, both the upload and download speeds will be be one gig. Typically, internet service providers offer much lower upload speeds in order to increase download speeds, but Hodgeton says the widespread use of streaming services, online gaming and Cloud-based storage systems have increased the need for better upload speeds. He noted that fiber is not only faster, but also much more reliable than the old copper DSL option.
"Everybody's loving it," said IBEW 2327 member Bill Darge, who works in the Rockland area. "I've got it at my house. My son does some gaming and back when we were running at 25 megs with the copper DSL we only had one meg of upload. As soon as he'd start his game up it would dump everybody in the house, including the TV. Now that we've got the 50 meg, we don't even know he's on."
Darge noted that customers can download the Fidium Attune app, which allows users to remotely monitor what devices are connected and disconnect them.
IBEW 2327played a key role in protecting customers in a $425 million investment by hedge fund Searchlight Capital Partners into Consolidated Communications, which was approved by Maine utility regulators last year. As part of the deal, the company agreed to install 4,000 miles of high speed fiber optic cable as part of a five-year project to construct a total of 11,000 miles of fiber through Maine, New Hampshire and Vermont.
If you'd like to learn if union-built high speed broadband is available in your town, visit fidiumfiber.com!