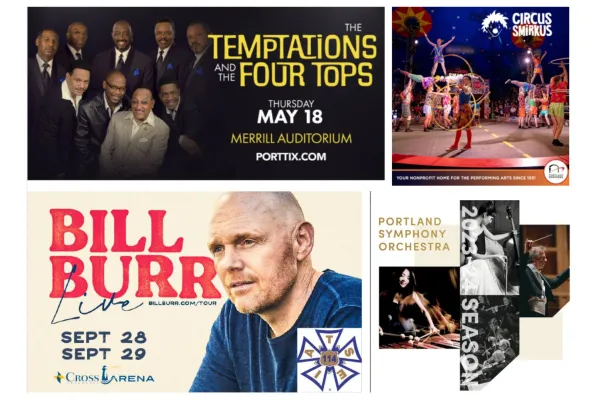 When you attend a major stage show in Portland there's a good chance that union stagehands are involved with its production. Members of IATSE Local 114, which was founded in 1904, are employed to handle events at the Cross Insurance Arena and are the de facto house crew for the Merrill Auditorium.
From major rock shows, the Portland Symphony Orchestra, operas and ballet to stand-up comedy and trade shows like the annual Maine Cannabis Convention, IATSE crews can be found working as stage hands and riggers, doing lighting and sound, running fly rails, driving forklifts and loading and unloading trucks at all of these events. Local 114 has also set up and run cameras and the scoreboard for Mariners hockey games since 1977.
Local 114 Business Agent Doug Born says the job has always been a passion for him, ever since he began setting up church suppers at age 13.
"We'd have a bean supper at our church and I'd set it up and take it down. In a way, my work now is an extension of that," said Born. "Then I started going to concerts and seeing these guys work on the stage between sets and I thought 'that looks like a cool job!"
Unfortunately, the stage hands don't get to enjoy the shows because they have jobs to do. But Born says he just loves to be involved in the process and seeing the craft that goes into putting on a good show.
"You can't like every show, but I don't care how much your band sucks," he says. "I can still appreciate talent and the spectacle and I sure as hell appreciate the work that pays a union wage."