How IBEW 567 Electricians Won the 40-Hour Week in 1940 Strike
Andy O'Brien
23 Sep, 2022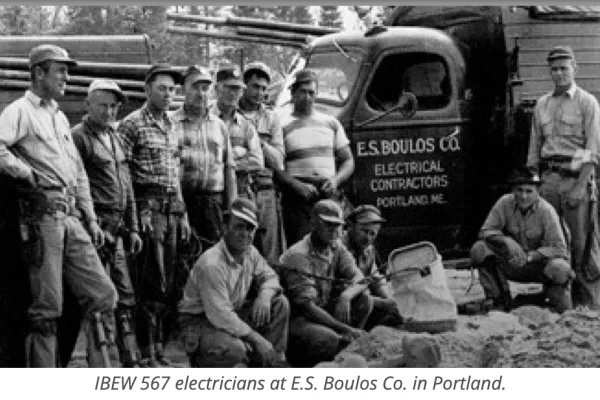 As anyone schooled in labor history knows, workers' rights, protections and benefits didn't just fall from the sky or come over on the Mayflower. We have had to fight for everything we've won through collective struggles -- from fair wages and the eight-hour-day to the weekend, paid vacations, retirement security and more.
In December 1940, members of IBEW Local 567 won a wage increase of 12.5 cents per hour and a 40-hour work week with double time for overtime following a one-day strike against the Portland Electrical Contractors, according to the January, 1941 edition of Maine State Labor News.
Union members reportedly had high praise for union leadership, including President John Archambeau, who helped negotiate the agreement. The contractors included York & Boothby Company, Cutler & Cutler, L.W. Cleveland Co., E. S. Boulos, W. W. McKenny Co., George Sears, Emery Cook and H. N. Blanchard Co.