Former National Labor Relations Board (NLRB) Chair Calls Chipotle's Union Busting in Maine "Devastating" & Diabolical" at Congressional Hearing
Andy O'Brien
15 Sep, 2022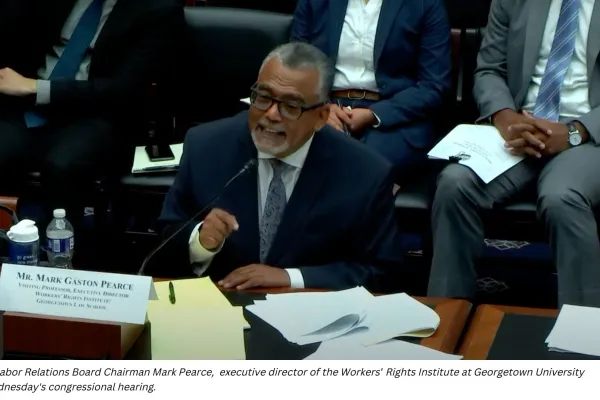 Members of Congress discussed illegal anti-union activity by companies in Maine on Wednesday as part of a House Committee on Education & Labor hearing titled "In Solidarity: Removing Barriers to Organizing." The hearing covered the rash of store closings around the country to thwart employees from exercising their right to join a union, including at the Chipotle restaurant in Augusta, Maine and a number of Starbucks stores nationwide. The hearing also touched on delays in procedures by the National Labor Relations Board (NLRB) to conduct union elections, including at Bates College in Lewiston, where employees have waited nine months to have their votes counted.
In a response to a question submitted by Maine Congresswoman Chellie Pingree about the Augusta Chipotle closure, former NLRB Chairman Mark Pearce decried Chipotle's actions as "devastating" and "diabolical."
"When you look at Maine," said Pearce, who is also the executive director of the Workers' Rights Institute at Georgetown University Law Center, "the insidious nature of the Maine situation is you have a place that gets closed as soon as a [union] petition gets filed, after employees were being trained to expand operations at that facility, and then they offer up jobs to the public at a location 40 minutes away, but block the emails of those employees that were working at the closed facility from applying. That kind of devastating, diabolical activity has to be looked at very carefully. The law talks about an employer has a right to shutter its business to stop a union from coming in, but if you have a corporate employer that has a cluster of businesses and is essentially playing whack-a-mole to drive out the union, I think the law looks a little bit differently at those kind of activities and it will be interesting to see what the unfair labor practice [complaint] will result."
View a clip of Pearce's full remarks on the Chipotle situation here.
The National Labor Relations Board is currently investigating unfair labor practice charges regarding the closing filed by Chipotle Workers United, the union representing the employees. The union has also filed charges alleging that the refusal to consider the Augusta workers for hire further violates the National Labor Relations Act.
Reps. Suzanne Bonamici (D-Ore) and Pramila Jayapal (D-WA) also mentioned the Chipotle closure and questioned witnesses about the impact of such store closings on employees. Michelle Eisen, a Starbucks barista from Buffalo, responded that the message behind such closings was very clear: "if you choose to unionize your workplace the company is going to come in and shut down your store. It's breeding fear."
"We're grateful that our lawmakers took time today to hear about the blatant and illegal union-busting activity happening across the United States," said Brandi McNease, a former Augusta Chipotle worker and member of Chipotle Workers United. "The National Labor Relations Act of 1935 established our right to form unions and our employer's responsibility to meet us at the bargaining table, but it has left us with no defense against anti-union activity from employers and no recourse when labor laws are being violated."
During the hearing, Cornell University Professor Kate Bronfenbrenner also mentioned delays at the NLRB in election procedures, including at Bates College in Maine as demonstrating the need to increase funding to the NLRB.  According to the NLRB, its funding has declined 25 percent since FY2010 while overall agency staffing levels have dropped 39 percent since FY2002 and field staffing has shrunk by 50 percent when adjusted for inflation. Prof. Bronfenbrenner pointed out that Bates workers voted nine months ago to have their votes counted and are still waiting for the results. 
"When nine months go by, that is nine months where employers are engaging in threats, intimidation and coercion. It acts like a waves against support for the unionization," she said.
Bates employees filed for an election in October 2021 and voted last January whether to join the Maine Service Employees Association. However, Bates administration filed a request for review of a decision to allow adjunct faculty to decide whether they wanted to be part of a unit with staff. As a result, the NLRB impounded the ballots and has not counted them while it considers the college's request. Meanwhile, another school year has begun.
Ahead of the hearing, First District Congresswoman Chellie Pingree issued a statement reiterating her support for workers pursuing unionization in Maine. Both Pingree and Congressman Jared Golden are co-sponsors of the Protecting the Right to Organize (PRO) Act, which would crack down on union busting and hold companies accountable.
"Multi-billion-dollar corporations are engaging in these union-busting tactics all over the country, limiting the bargaining powers of workers," said Pingree. "The widespread examples of unfair labor practices at companies like Chipotle, Starbucks, Amazon, and more raise questions about whether penalties against employers are strong enough. I'm proud to be an original cosponsor of the PRO Act, which would increase civil penalties when employers are found to violate workers' rights under the National Labor Relations Act."