First Female President of the Metal Trades Council at Portsmouth Naval Shipyard Discusses Priorities
Andy O'Brien
15 Sep, 2022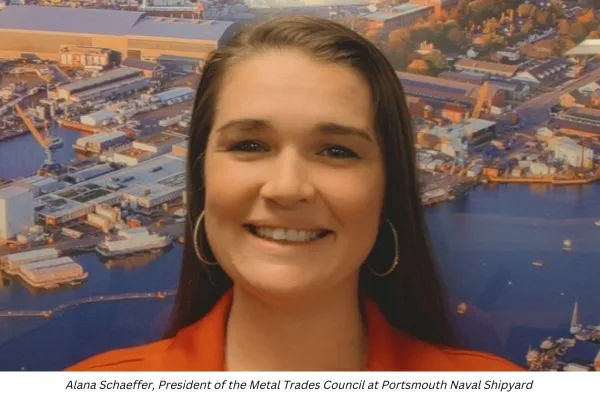 In 2020, Plumbers and Pipefitters Local 788 member Alana Schaeffer became the first woman  elected President of the Metal Trades Council, an association of a dozen unions representing 3,000 employees across ten trades at Portsmouth Naval Shipyard. It was an honor she never could have imagined a few years earlier when she first started her career in the trades.
Growing up in Mobile, Alabama, she wasn't exposed to unions and her family didn't have the same kind of economic security that union families enjoy. As the oldest of five siblings, she was the first to graduate high school, but she knew college wasn't in the cards. Then a new opportunity opened when at the age of 21, she decided to move up to New England with her children's father. She was first attracted to work at the Portsmouth Naval Shipyard after she heard that she could get paid while she learned a valuable trade in a union apprenticeship program there. 
"I did not know much about unions before I started work here. I didn't grow up in a union family or have the story some of my predecessors have," said Schaeffer, now 34. "But now I have siblings who have followed in my footsteps and have gotten into union trades. It has definitely offered more opportunities for me and my family than my siblings and I had growing up."
When she first started work in 2012, she says it was a little intimidating working at the yard as one of only two women out of nearly 300 workers in her trade. 
"It's definitely been a struggle right out the gate, said Schaeffer. "When all the men would go out for beers, they didn't want their wives to know that they had a female coworker so I wouldn't get the invite to other functions men were going to. That felt very lonely."
But overall she says it's been a good experience, particularly since she always had coworkers who had her back. There is also now an employee resource group for women workers at the yard to connect. 
Like other federal employers, Portsmouth Naval Shipyard is an open shop, which means workers don't have to pay dues to support collective bargaining if they choose not to. But Schaeffer says she joined because she knew her union brothers and sisters looked out for her. She recalls becoming interested in being involved with her union on one hot summer day when she and her coworkers were working on the boats and the water got shut off. 
"I remember our union steward coming down and bringing us all water and making sure they had water restored in the building. Right off I said, 'Hey! I want to help people like that. I want to make sure that people are getting the things that they need that management isn't giving them,'" Schaeffer recalled. "That was the lightbulb moment for me. My union is my family. We take care of people."
After graduating from her apprenticeship in 2016, Schaeffer became a shop steward and was later elected as the first woman president of Plumbers and Pipefitters UA Local 788 and before winning an election for president of the Metal Trades Council in 2020. She says it helped to have mentors who believed in her leadership ability and encouraged her to pursue higher office. 
"Our UA business manager brought me in and taught me a lot," she said. "He'd say ,'Alana, we're going to be hiring more women and there are going to be more female officers coming into this world. Someone's got to be the one to break the ice and it might as well be you.' I said 'ok! Well, I guess let's stand up and go do it!'"
Schaeffer says having a woman in union leadership helps provide more of a voice for women members and shows female apprentices that they belong there too and there's someone who is going to have their back. She says the key to getting more women into the trades is approaching them while they're young and showing them that they too can have a fulfilling career in the trades. She participates in the shipyard's outreach programs where workers bring in hands-on projects into schools for girls to try.
Meanwhile, Schaeffer continues to work with her coworkers and members of the Congressional delegation to negotiate better working conditions and ensure wages are commensurate with similar work in the private sector. She says the most critical issues impacting workers at PNSY are the lack of affordable child care and housing in the region. 
"We've lost a lot of employees because they can't find housing or childcare," she said. "We continue to struggle with that in terms of hiring and retention."
Schaeffer said her proudest accomplishment is negotiating an agreement to allow for more flexible work hours for parents who have trouble getting their children to and from childcare. Under the new agreement, shipyard employees are allowed to come in earlier or stay later to adjust to child care drop-offs.