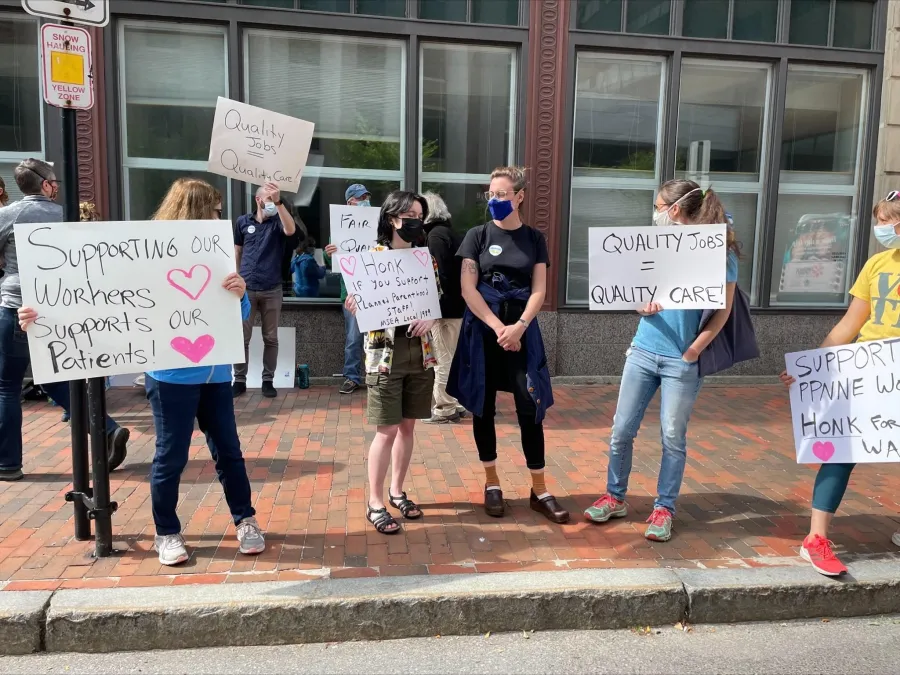 IN THIS EDITION:
IBEW 1253 Secures New Contract with Pay Raises
The 2021 Working Families Legislative Scorecard is In the Mail!
Planned Parenthood Workers' Tentative Agreement Includes Big Raises
Union Organizers Say "Build Back Better" Bill a Gamechanger for Union Organizing in Maine
Maine AFL-CIO's 33rd Biennial Convention - October 26 - 27
HIRING ANNOUNCEMENT: Maine Labor Climate Council Director
When Mainers Went On Strike in the 1830s & 40s
IBEW 1253 Secures New Contract with Pay Raises
An arbitration panel has approved a new three-year contract for IBEW 1253 that includes a substantial raise after electricians and the National Electrical Contractors Association (NECA) hit a stalemate following months of negotiations.
"It was very tough going, but the negotiating team of 1253 was steadfast, we didn't waiver and we didn't settle," said Chuck Fraser, the lead negotiator on IBEW 1253's bargaining team.
The contract includes raises of 3.7 percent, 3.4 percent and 3.3 percent over the next three years.
Union construction electricians have typically do not strike and when negotiations hit an impasse, the disputes are adjudicated by the Council on Industrial Relations (CIR) — a panel made up of twelve members, six representatives from the IBEW and six representatives from NECA. Decisions issued by CIR are legal and binding upon both parties. 
Fraser said it became apparent that both sides would have to go to arbitration after the company countered the union's final offer of $6.20 per hour raise spread over three years with $3.65 an hour over three years. IBEW 1253 members worked without a new contract until August, when CIR rendered a final decision settling on a cumulative $5.30 per hour wage increase over the course of the three-year contract.
"The decision didn't reach our targeted goal but it's acceptable. We were shooting for $6, but we've had some pretty significant raises in recent contracts and both times we went to CIR," said Fraser. "For the history of the local, what we've received is pretty unprecedented."
The 2021 Working Families Legislative Scorecard is In the Mail!

Would you like to know how your state legislators voted on key labor legislation to strengthen collective bargaining rights, stop wage theft, create quality union climate jobs and more? Do you know how your state representative and senator voted on the perennial "right-to-work" for less bill? Check your mailbox! Our 2021 Working Families Legislative Scorecard is in the mail and it's a doozy! 
Planned Parenthood Workers Reach Tentative Agreement with Big Raises
After nearly a year of difficult bargaining, the unions representing 180 workers at Planned Parenthood of Northern New England in Maine (MSEA-SEIU 1989), New Hampshire (AFT) and Vermont (AFT) have reached a tentative agreement for a three-year contract that includes across the board wage increases, more affordable health care coverage and more time off. A ratification vote will be held later this week.
"We put a lot of energy into bringing wages for low wage workers up," said MSEA-SEIU 1989 organizer Angela MacWhinnie. "Everyone who works there is going to end up with $20 an hour or more by the end of the contract and new hires by the end of the contract will be starting at $18 an hour or more." 
Under the proposed contract, PPNNE workers will receive:
Between 11 and 36 percent increases over three years. The lowest paid new hires will receive at least a $17.50 minimum wage. Current employees will start the contract with no less than an $18 per hour wage.
Improvements in the cost of health care. A 15 percent decrease in health insurance premiums and an increase in employer contributions to employee health reimbursement accounts (HRAs), which help workers pay out-of-pocket medical expenses. The employer will also be prohibited from changing employee health care plans without the consent of employees.
Paid holidays. Before PPNE workers had to pay for their holidays out of their own compensatory time off (CTO) bank, which meant if they didn't use their CTO they wouldn't get paid when the employer closed for holidays. Under the new contract, they will receive paid holidays with the addition of Juneteenth and a floating holiday for a total of five additional days off.
Improvements in scheduling and rights at work.
Improvements in diversity, equity and inclusion in the workplace. This includes improvements to equity in access to training and promotion. A labor management committee will specifically address diversity, equity and inclusion and benchmarks to improve diversity in hiring. 
Maine PPNNE workers voted to unionize in August 2020 and began bargaining in October. Earlier this year Vermont and New Hampshire PPNNE workers organized with the American Federation of Teachers and joined the bargaining team.
"It was really key that the workers were united in forcing management to agree to the provisions in this agreement," MacWhinnie added. "We were definitely able to win so much more than we would have had it been only Maine bargaining."
Union Organizers Say "Build Back Better" Bill Will Dramatically Improve Climate for Union Organizing in Maine
Local union organizers in Maine say pro-labor provisions in the "Build Back Better" legislation currently being negotiated in Congress will strengthen workers' rights and dramatically improve the climate for union organizing in Maine. These proposals include key planks in the Protecting the Right to Organize (PRO) Act, which would level civil monetary penalties of between $50,000 and $100,000 on employers that commit unfair labor practices, such as firing workers or doing "serious economic harm" to them in retaliation for leading union organizing campaigns. It would also make it an unfair labor practice for employers to promise, threaten, or take the following actions:
Require employees to attend so-called "captive audience" speeches or meetings to listen to anti- union propaganda during a union-organizing campaign.
Lock out and permanently replace strikers.
Misclassify workers as independent contractors or supervisors to exclude them from bargaining units.
Discriminate against an employee who is working or has unconditionally offered to return to work because the employee participated in or supported a strike.
"If some of these changes could be made I think it would give workers a much better shot at making up their own minds as to whether they want to form a union, rather than making the decision out of fear," said Jay Wadleigh, Directing Business Representative of Machinists District 4. "Right now it's actually cost effective for employers to just fire two or three people who are the lead organizers, then they can just hire them back if the are found to have committed an unfair labor practice. It's actually cheaper for them than to pay real wages for workers because the fines for unfair labor practices are so minimal."
Todd Ricker, a labor representative and organizer with the Maine State Nurses Association, National Nurses United, said banning captive audience meetings would correct a power imbalance by preventing employers from exerting undue influence in union campaigns.
"The fact that employers can use company time to barrage workers with anti-union propaganda reinforces and maintains the huge power imbalance that bosses have within any non-union workplace," said Ricker. "Winning passage of these PRO Act provisions in the Build Back Better legislation will rebalance this power and allow workers to have a fair shot at organizing a union for themselves where they work."
 Angela MacWhinnie, an organizer with MSEA-SEIU 1989,
 said the proposed penalties would be "huge." She noted that even when the National Labor Relations Board determines that an employer committed an unfair labor practice — such as punishing a worker by intimidation, stripping them of schedules they like, moving them around to different jobs or refusing to give them time off — all the company has to do is put a tiny half page posting on a bulletin board somewhere that basically says, 'We don't admit that we did anything wrong, but we won't do that again' several months after the damage has been done."Nearly every employer during union campaigns, if they don't break the law, they come pretty dang close to doing so and they never receive much punishment for it. If anything, they have more to gain by breaking the law if they play their cards right," said MacWhinnie.Under current law, even if an employer is found to have unjustly fired a worker for trying to organize, all the company has to do is rehire the worker and provide back pay 
minus
 any income they may have received from a new job following the dismissal. Therefore, it's possible that the company won't have to pay the fired employee any back wages at all."Right now when we're organizing workers we remind them that they absolutely have a fundamental legal right to organize their own union, but we also have to tell them, 'look, the company may well break the law. They may lie to you, intimidate you or even fire you. We'll fight to hold them accountable and defend your rights as workers. But you have to know going in that the law is not on your side,'" 
said Matt Beck, an organizer with IBEW 1837.
"
The penalties in Build Back Better would give us the ability to reassure workers that not only is union organizing something that they have a legal right to do, but we could also assure them that if the company breaks the law, they will pay the price."
Maine AFL-CIO Biennial Convention: October 26 - 27, 2021
As a result of the ongoing COVID 19 pandemic, the Maine AFL-CIO will hold its 33rd Biennial Convention this year as a virtual online convention on Tuesday and Wednesday, October 26 - 27.
At the convention we will make important decisions that will guide the organization for the next two years. The agenda includes setting organizational priorities for how to respond to the ongoing pandemic, organizing opportunities, and campaigns to advance workers' rights, racial justice and democracy. We'll also discuss recent organizing and contract wins and elect a Secretary-Treasurer and a new Executive Board.
This year's convention will also be honoring a great set of award recipients, including a shop steward of the year. You can nominate your favorite steward here: https://maineaflcio.org/steward
We would like to have every affiliated union represented! If you are interested in participating from your union, contact your union president or business manager.
A convention mailing was sent out to affiliated Presidents. Unions are encouraged to register by TUESDAY OCTOBER 19th (and the sooner the better – it really helps us!).  
Union members and allies are invited to attend the awards ceremony on the evening of Tuesday, October 26, at 6pm. Please RSVP to matt@maineaflcio.org & stay tuned for a link and details!  
HIRING ANNOUNCEMENT: Maine Labor Climate Council Director
The Maine Labor Climate Council (MLCC) — a new coalition of labor unions working to combat climate change, reverse economic inequality and create good union jobs — is seeking a dynamic and passionate director to coordinate our work to jointly tackle inequality and climate change. The Director will work to build out and formalize this labor-led coalition, develop and implement campaigns, oversee staff and fundraising, support efforts to organize key sectors of the renewable energy economy and more.
A group of 15 – 20 unions have been meeting since early 2020 to develop this work together. We are excited to hire a director to take our efforts to the next level. Maine Labor Climate Council is an affiliate of the National Climate Jobs Resource Center. Please click here for more information and to apply! Applicants are encouraged to apply by Friday October 8, 2021.
When Mainers Went On Strike in the 1830s & 40s
Did you know that the first recorded strike among shipyard workers in Maine took place in Kittery in 1815, when carpenters at the Navy yard walked off the job over a wage dispute? 
Have you heard about the 130 carpenters on the Mill Dam in Bangor who paraded off the worksite accompanied by two clarinetists to demand a shorter work day? One local newspaper described it as "the most gentle, manly turn-out we have ever heard of."
Or what about that time French-Canadian laborers working on the Kennebec Dam in Augusta walked off the job to protest smoking regulations in July, 1836?
And then of course there were the Bath shipbuilders who launched a general strike in 1847 to demand that the shipyard owners restore a 10-hour work day to the yards.
Learn more about these courageous Maine workers who stood up and fought for some of the rights we enjoy today (except smoking on the job - that's not a right) in this month's "Radical Mainers" column!