Công Tử Bột Workers Organize First Independent Restaurant in Maine in 40 Years
Andy O'Brien
06 Apr, 2023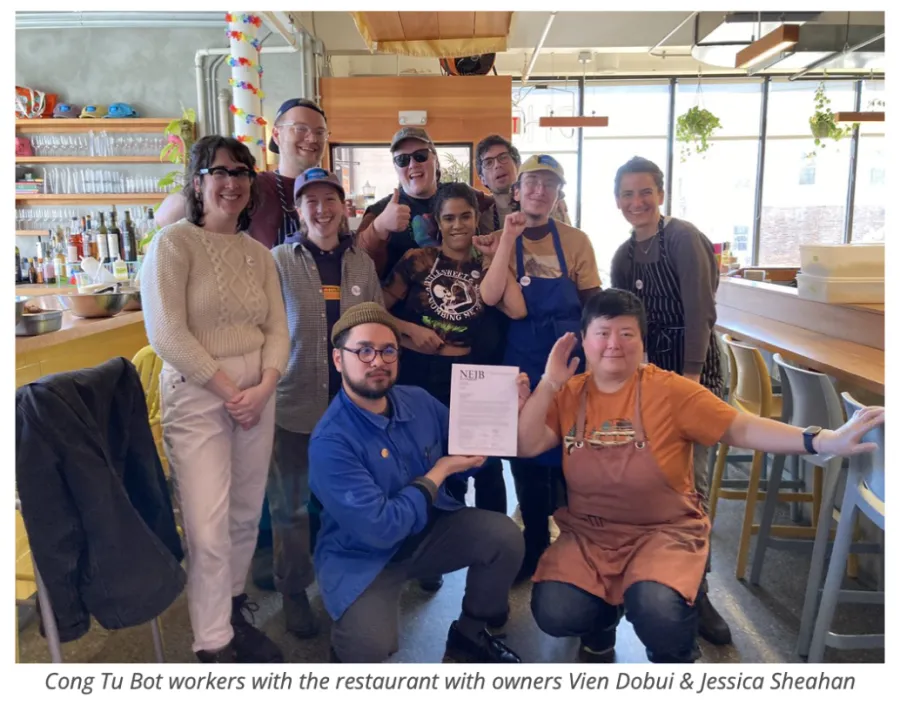 Workers at the Vietnamese restaurant Công Tử Bột in Portland have announced they are forming a union with UNITE-HERE, making it the first unionized independent eatery in Maine in 40 years. The restaurant owners are expected to voluntarily recognize the 21 employees who are joining New England Joint Board UNITE HERE. The union represents 300,000 workers primarily in food and hospitality. The last unionized restaurant in Maine was the Roundhouse Motor Inn in Auburn.
Server Cora Kircher said that there's a misguided belief that workers should only unionize if they're being extremely exploited, but that wasn't the case with Công Tử Bột workers. They said that while they have a great relationship with management, consciousness has been growing, especially since the pandemic, that the restaurant industry can be very exploitive, so they wanted to inspire other restaurant workers that unionizing is an option.
"We're excited about codifying what's really great about our workplace and establishing a system to ensure it stays that way while making improvements," said Kircher. "We also want to show that it is possible for workers in the food service industry in Portland to ask for better conditions, to build power together and reshape this industry into something that's more sustainable and healthier for everyone."
The restaurant owners Vien Dobui and Jessica Sheahan are not only planning to voluntarily recognized the union, but they actually encouraged their employees to organize.
"I think labor organizing is important," Dobui told the Press Herald. "The quality of the job we create here at the restaurant has been very important to me," later adding, "I am incredibly proud of our staff and the organization that they could put the work in to get to this point."
According to the Press Herald, Dobui and Sheahan closed the restaurant to indoor dining during the pandemic and when they were making plans to reopen they wanted to make sure the employees had a say. Calling themselves "CTB Rockers United," the staff began working on improving working conditions, creating a more consistent work schedule and implementing a tip pooling system for all hourly workers that raised their wages between 15 and 20 percent.
Kircher said that they have been involved in an informal grassroots group of local restaurant employees called "Portland Restaurant Workers Coalition," which met several times last summer and fall and held organizing trainings. The trainings included an introduction to unions, knowing your rights at work, strike solidarity and industry-wide mutual aid.
Kircher said that they were inspired by other food service workers organizing at Chipotle, Starbucks and Little Dog in Brunswick and wanted to inspire other restaurant workers to build on that momentum. Members of Little Dog Workers United, Chipotle United and Starbucks Workers United all applauded CTB Rockers United's announcement of Twitter and Instagram.
 
Kircher acknowledged that there is a common anti-worker sentiment that food service workers are somehow "unskilled," that they "don't deserve to ask for more" and that they should "just be grateful to have a job." However, food service workers are increasingly realizing the value of their labor and they're expectations are being raised about what is possible.
"There are so many injustices we experience both in the workplace and in life in general. I think there has been a recent shift in consciousness  that the way to fight injustice is to build power together and the way to do that is with people we work with," they said. "This is a city that runs off of tourism and restaurants. We are the skilled labor that makes this city run and we need to protect our jobs, our safety and power as workers."