Chipotle Workers Protest Company's Illegal Closing of Augusta Store in Egregious Act of Blatant Union Busting
Andy O'Brien
21 Jul, 2022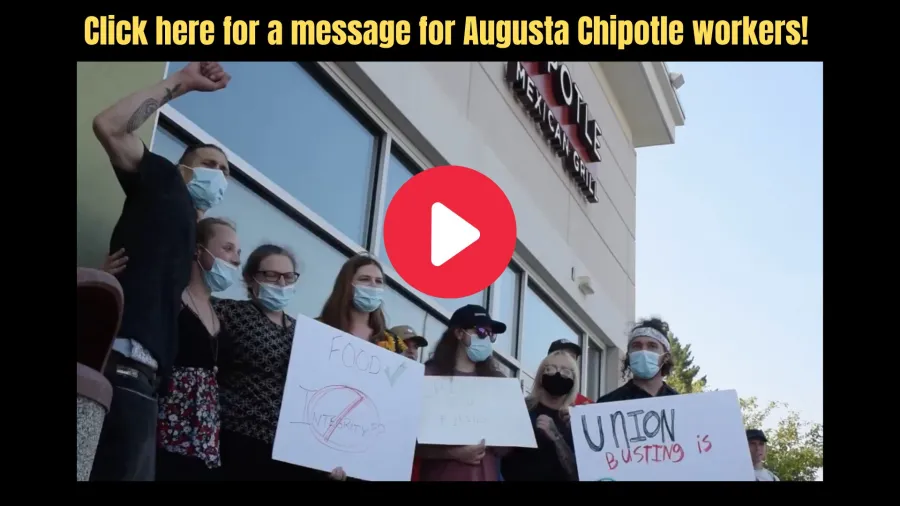 Chipotle workers in Augusta rallied on Tuesday evening after the corporate chain announced the restaurant's closure in a desperate attempt to stop workers from organizing a new independent union, Chipotle United.
According to Chipotle employees, the company waited until the morning of their National Labor Relations Board (NLRB) hearing to determine the process of their union election to inform them of the store's closure. Chipotle United has since filed a complaint of an unfair labor practice with the  NLRB over the action.
Augusta Chipotle employee and Chipotle United member Brandi McNease shared the following statement:
"They waited until the morning of the hearing to close the store and then claimed we couldn't elect to form a union because we're permanently closed. This is union busting 101 and there is nothing that motivates us to fight harder than this underhanded attempt to shut down the labor movement within their stores. They're scared because they know how powerful we are and if we catch fire like the unionization effort at Starbucks they won't be able to stop us.
"For a company that gave a bonus to its CEO that was 1,700 times more than the median Chipotle worker's pay in 2020, I don't believe for a minute that they couldn't afford to hire a manager and enough staff to keep this store running. Chipotle has the money to attract workers and pay them living wages, but it would prefer to use it to pay exorbitant dividends to their shareholders. 
"Since we announced our intent to unionize, they've tried to bully, harass and intimidate our crew to prevent them from exercising their right to have a collective voice on the job. But we remain united, our solidarity is strong and we won't bend. We are sticking together and our customers have our backs. We are fighting this decision and we are building a movement to transform the fast food industry and ensure the workers who create all the wealth for these corporations are respected and no longer have to struggle to support their families."
Last month, the Augusta workers became the first Chipotle employees in the nation to file for union recognition to bargain for safer working conditions, better staffing and a seat at the table. Since then, Chipotle workers across Maine and the nation have contacted Chipotle United for advice on forming their own unions. Earlier this month, Chipotle workers in Michigan also filed to form a union, with likely more to follow.
Please follow Chipotle United for more updates on Twitter and Instagram!