CDS Workers Demand Respect for Essential Services They Provide
Andy O'Brien
12 May, 2022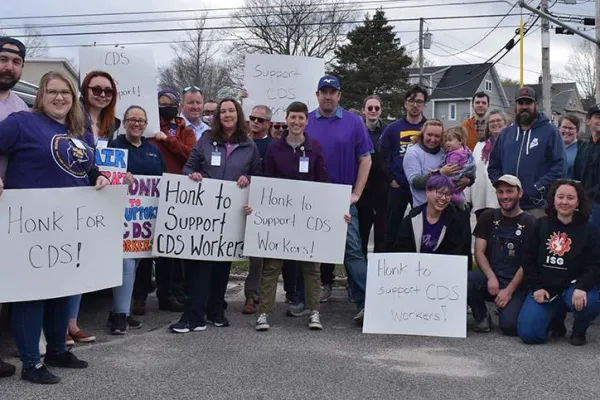 Workers for the publicly funded agency Child Development Services rallied on Monday, May 2, outside the CDS Reach office in Portland to demand respect for the essential services they provide. They called on management to address key issues impacting CDS services and their pay and working conditions.
Over 360 CDS workers provide essential services to children with developmental disabilities throughout Maine. Represented by the Maine Service Employees Association, Local 1989 of the Service Employees International Union (SEIU), they have been working without contracts since Dec. 31 even though negotiations have been under way since last fall. They work in professional- and support-level positions at multiple CDS sites statewide, including nine regional offices and numerous childcare facilities serving Maine's youngest children and their families in every corner of Maine.
"CDS workers see their value in their efforts to address challenges for our youngest population, yet management doesn't value the young families of our workers," MSEA-SEIU Member Erin Leaman-Farley, Case Manager CDS Reach, Portland, said in support of her coworkers' demand for paid parental leave in the contract negotiations. "We are educators supporting children and families every day, yet we cannot support our own families!"
Another key issue for the CDS workers in the contract negotiations is remote work.
"When the pandemic hit, most of the CDS staff was accustomed to working in homes, childcares and preschools," explained MSEA-SEIU Member Laurie Brown, service coordinator for CDS York. "We adjusted and adapted as educators do, developing options for remote services, then to in-person and now a hybrid option. We are able to accommodate families much better with options. We are asking to continue the good work we have been doing in the manner families have found successful."
The CDS workers also cited recruitment and retention issues at CDS worksites driven largely by low pay.
"The people who do this job do it because they love it, but we're losing people rapidly because they're finding jobs with better pay and better benefits. We're losing families because we just don't have enough staff," said MSEA-SEIU Member Tammy Talbot, Service Coordinator at CDS First Steps in Lewiston.
The CDS workers have started an online petition in which Maine people can show their support for the CDS workers and demand management negotiate contracts that address key issues like paid parental leave, remote work and fair compensation.