Business is Booming for Ironworkers Local 7 in Portland
Andy O'Brien
12 May, 2022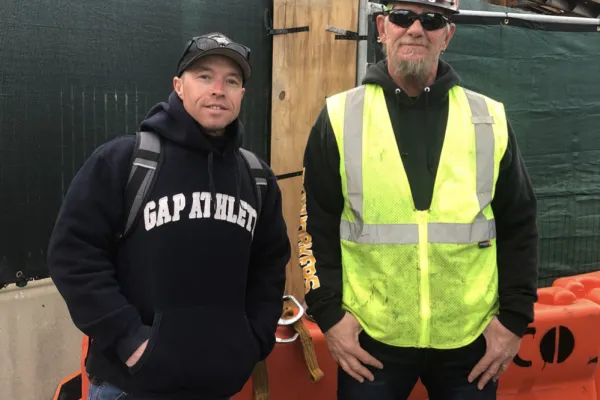 When Ironworkers Local 7 member Grant Provost became the union's business agent in Maine in mid-2018, business was pretty slow to say the least. The Great Recession was a particularly tough time for the building trades because so many projects were stalled and 2 million construction workers were laid off nationwide. It took years for Maine to fully recover. Many ended up traveling far out of state to stay employed.
But in the past few years as Maine experiences somewhat of a building boom, Ironworkers 7 has secured numerous contracts all over the state. In 2018, there were just fifteen Ironworkers working in Maine, but it has boosted membership and has put about 150 to 200 members to work this year. In Portland alone, Ironworkers have been working on a $52 million expansion of Maine Medical Center, condominiums on Commercial Street, the Wex Building, a Fore Street project, moving the Veranda Street Bridge, an eight-story building on Hanover Street and the massive 18-story apartment building at 201 Federal Street. 
"We've got five jobs in the city going right now, which is pretty good considering that we had zero a couple years ago," said Provost. "When I took over in 2018 we worked maybe 30,000 to 40,000 man hours. So far we've worked 80,000 man hours in just the first three months of this year alone. Ironworkers have been right out straight for ten months now, sometimes seven days a week."
Ironworkers 7 will also likely get work on future offshore wind projects, thanks to an agreement struck with the Mills administration to require wind developers to use project labor agreements. 
At the job site at Maine Medical Center, Ironworkers 7 member Ben Moore of Augusta and Jenner Holstrum of New Gloucester, say it's been a welcome change to have so much work close to home.
"The money in Boston is good and there's a lot of work, but we're really happy to be back here in Maine," said Moore, who has been working in Boston for the past ten years.
John Dalton, the co-owner of the Alberta, Canada-based Angel Wing Erectors, says he is very pleased with the work the Ironworkers have done on what will become the tallest residential building in Maine.
"The Ironworkers are doing a fantastic job," said Dalton. "If you're looking to get the job done and get the right amount of manpower I would definitely recommend using Ironworkers Local 7. These guys stepped up to the plate, and we're right on schedule. The only problems have been the windy, damp weather this spring."