Augusta Ironworkers Members Produce Critical Steel Infrastructure
Andy O'Brien
14 Jan, 2022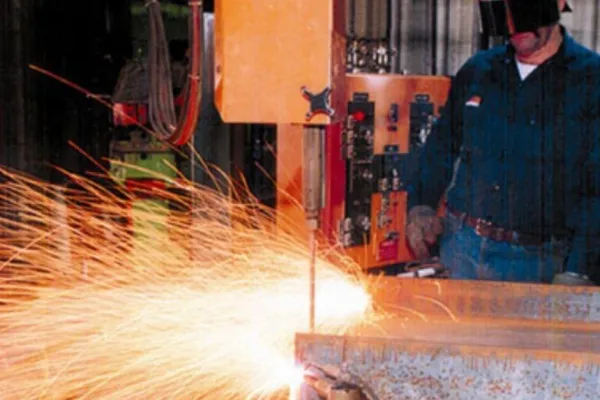 For 60 years, members of Ironworkers Local 807 at Cives Steel in Augusta have fabricated structural steel for a variety of large-scale projects throughout New England. Originally established to serve the infrastructure needs of paper mills, in recent years Cives has diversified to produce over 20,000 tons a year of structural steel for high-rise buildings, airports, hospitals, universities, transportation infrastructure, nuclear power plants, pharmaceutical manufacturing and more.
Currently, Local 807 members are working on a bridge deck overlay to go over the I-90 tunnel near Fenway Park in Boston, as well as the steel structures for Maine Medical Center and the Massachusetts Institute of Technology. The Cives Augusta branch typically serves clients in Maine, New Hampshire, Massachusetts and upstate New York.
Over the years, Local 807 has had their share of workplace struggles. In 1989, workers were locked out after negotiations with the company soured. It happened to coincide with when the Maine Legislature was considering a bill to allow locked out workers to receive unemployment benefits. Unfortunately the bill failed. Then in 2004, Local 807 members again went out on strike to fight for a fair contract.
Jonas Ireland, the President of Ironworkers Local 807 Cives Steel, says the work climate at Cives has improved over the years and in 2020 the union negotiated the best contract he'd seen. However, he says there is still a lot more work to do in the next contract to raise wages in order to boost recruitment and retention. Currently the company is seeking to hire several new employees.
Having worked non-union in the past, Ireland says it's "definitely a benefit to be working union," especially in the kind of work they do.
A lot of people nowadays are unfortunately uninformed about their rights at work, so they kind of get stepped on a lot," said Ireland. "That's why we need a union. The company will try to get away with whatever it can get away with."