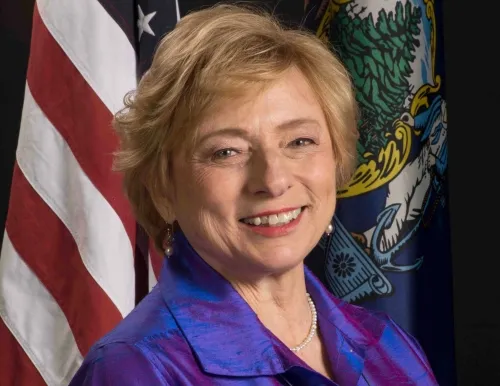 On Friday, June 24, delegates from the Maine AFL-CIO's 160 affiliated unions at our 2022 COPE Convention voted to endorse Governor Janet Mills for reelection in November.
Thanks to Governor Janet Mills' support, during the past four years we have made more progress on passing pro-worker legislation in Augusta than the previous 40 years. We have worked collaboratively with her administration to pass more than 60 new pro-worker laws:
93,000 low-income Mainers are now eligible for MaineCare after LePage spent his term blocking MaineCare expansion.
The state is now fully funding the cost of public education at 55 percent for the first time ever, taking the burden off of property taxes and freeing up municipal funds for other purposes.
Revenue Sharing funding is fully funded at 5 percent for the first time in over a dozen years, supporting our teachers, firefighters, police and other municipal employees. 
Public sector workers recently received the most significant improvement to their pensions in decades. A new exemption on retirement pension income is funded with $36.8 million, which will increase in future years.  
We passed two bills requiring Project Labor Agreements that establish wage and labor standards for all contractors and construction workers on certain construction projects.
Beginning in 2023, every new energy construction project in Maine over 2 megawatts will be covered by prevailing wage that will set a standard for wages in the grid-scale renewable energy industry.
We won passage of a new labor education center based at the University of Southern to provide research, education and support to Maine's labor movement and Maine workers. 
We won collective bargaining rights for loggers for the first time ever and a new dispute resolution panel for loggers with labor representation. 
We won the most significant improvement to Unemployment Insurance in decades  and created Unemployment Peer Workforce Navigators run by labor and community organizations to help people into good union jobs, job training and apprenticeship programs.
The Downeast Correctional Facility has reopened, restoring union jobs to Washington County and helping inmates transition to employment on the outside.
Maine became the first state in the nation to offer earned paid leave for 85 percent of working men and women in the state.
We have been able to increase the maximum weekly workers' compensation benefit for injured workers, establish a cost of living adjustment every five years, provide benefits to the parents of unmarried workers who are killed on the job and extend the cap on benefits from 520 week to 624 weeks.
Below are more details about the new laws that are improving health care, wages and economic well being for Maine workers: