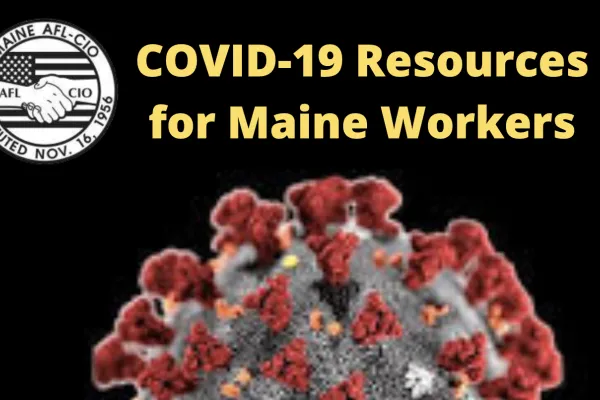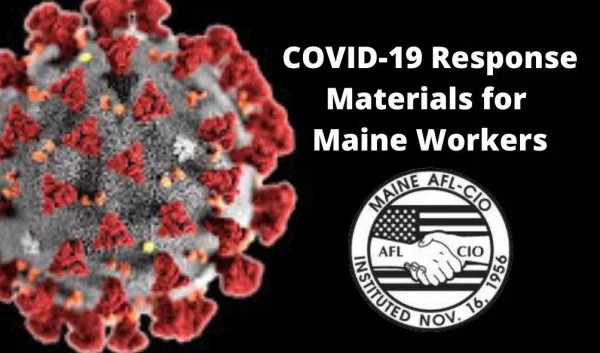 As the COVID-19 pandemic wreaks havoc on our families, our lives, our health care system and our economy, we are all grappling with how to respond and support each other. We are deeply moved by the courage and commitment of millions of workers on the front lines of this crisis. We also know how difficult and scary this time is. Workers are suffering mass layoffs, working in unsafe conditions and fear that they or loved ones will be exposed to this virus. Now, more than ever, it is critical that we build solidarity and help our neighbors as we struggle through this difficult time.
Programs we have fought for like paid leave, unemployment insurance, workers' compensation and other income supports will be crucial in helping workers through this uncertain period. At the same time, we must do everything we can to ensure that no one falls through the cracks. We are all in this together.  
Below are some resources for Maine workers who are impacted by the economic impacts of this crisis.
MENU:
LAID OFF, LOSING Time, OR QUARANTINED?
Congress has passed a $2 trillion emergency relief package that will greatly expand unemployment insurance (UI) benefits for workers and self-employed individuals who have been laid off or lost work due to the COVID-19 pandemic. The measure provides a $600-per-week across the board increase in unemployment benefits for all workers who claim them for up to four months. Currently, the average UI benefit in Maine is about $350, so this $600 increase is a very big deal. In addition, the new law will provide jobless benefits to individuals not typically eligible for unemployment, such as contract workers or people who are self-employed, but that program is not yet available. It also extends unemployment benefits for 13 additional weeks. 
A new state law also waives the one-week waiting period and the work search requirement to receive unemployment benefits for workers who have been laid off due to the state emergency. Workers who have to take a temporary leave of absence due to a social isolation requirement, a medical quarantine or need to care for a family member as a result of COVID-19 will not be disqualified from receiving UI benefits under the new law. After the initial week that you file a claim, you must continue to file on a weekly basis. See the graphic below for more details.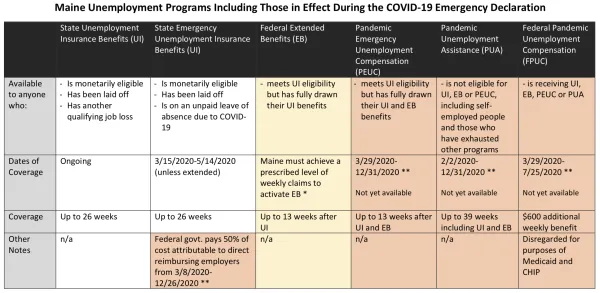 PLEASE NOTE: These new programs are complex, and the Maine Department of Labor are working to implement them as quickly as possible. Those who have exhausted all available benefits already or are self-employed should wait to file a claim for benefits. Since these programs have not been implemented yet, filing at this point will only result in a denial. We will continue to provide information as it becomes available. Once implemented, benefits will be paid retroactively. If you have already enrolled in the current program, you should continue filing your weekly certifications.
In addition, the federal relief bill will provide $1,200 to most adults and $500 for most children. This online calculator helps you determine how much you will be getting in the stimulus check under the Senate bill.
Maine Department of Labor recently posted these Unemployment Claim walk-through videos on their YouTube site. These videos review the registration, initial application, and weekly claim process step-by-step, as well as provide additional information on certain sections.
If you have questions or need help with Unemployment call Chris Greenleaf of the Maine AFL-CIO at 207-671-7933 or chris at maineaflcio dot com. You can also reach us by filling out this form.
Reminder:  When you file your weekly UI claim you will be asked if you are looking for work. You should say "YES".  Then in the comment section you should write "COVID-19".  If you do this you will have filed your claim correctly and you will not get an error message. 
Starting Monday, April 6:  Maine people seeking to file for unemployment by calling the 800 number with last names beginning with A-H should call on Monday; I-Q on Tuesday; R-Z on Wednesday. Thursday and Friday will be left unassigned for those who miss their alphabetical day or need to call at that time. The number is  1-800-593-7660 (8 a.m.-12:15 p.m.)
"While we hope to have 100 more people answering the phone lines by the end of next week, implementing this new system will ease congestion on our phone lines in the meantime," said Commissioner Laura Fortman. "This is an easy way for individuals to take action to improve access for everyone. We are all in this together and we appreciate your help as we navigate these unprecedented times."
Workers' Compensation Information
Please read the Maine Department of Labor's Frequently Asked Questions Relating to COVID-19 and workers' comp.
Industry-Specific Resources and Guidance
The AFL-CIO is collecting and sharing industry-specific COVID-19 guidance and resources from its affiliated international unions. It also has the most up-to-date materials from the Centers for Disease Control and Prevention, the Occupational Safety and Health Administration, the World Health Organization, research experts and others. Learn more here.