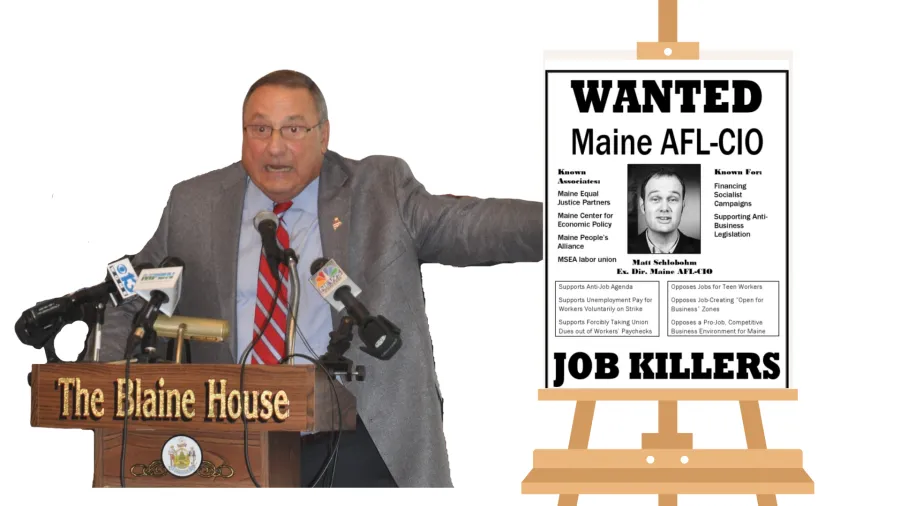 Photo: An actual "wanted poster" former Governor Paul LePage displayed at his public events.
During his four years as Governor, Paul LePage, relentlessly waged a war on workers, eliminated collective bargaining rights, blocked measures to increase the minimum wage from $7.50 an hour, demonized public employees and robbed workers' pensions to give the rich a tax break.
If he is able to win a third term, he will work furiously to undo all of our recent pro-worker gains and continue to push policies to break our unions and destroy the ability of Maine workers to legally organize and fight for better wages, dignity and a seat at the table.
We must not go back. For a refresher, below are some highlights of the LePage administration. As Governor, LePage:
Supported union-busting "right-to-work" for less legislation that would prohibit companies and workers in unionized shops to negotiate contracts that require all workers to pay the cost of collective bargaining.
Refused to raise the minimum wage by even 50 cents from $7.50 an hour.
Vetoed MaineCare expansion seven times and blocked implementation of the voter-approved MaineCare expansion law.
Robbed the pension of state employees and teachers to pay for tax cuts for the rich.
Slashed revenue sharing for municipalities, calling it "welfare for communities."
Prohibited project labor agreements on public works construction projects.
Gutted workers compensation for severely injured workers.
Repealed collective bargaining rights for child care workers
Weakened unemployment to delay UI benefits for any vacation time workers have.
Supported lowering Maine's minimum wage from $7.50 to $5.25 an hour for anyone under age 20.
Click here to learn why we are supporting Governor Janet Mills for reelection!
Here are some more details on the anti-labor legislation LePage backed and signed into law: