Mental Health Workers Give Powerful Testimonies on Retirement Bill
Andy O'Brien
12 May, 2023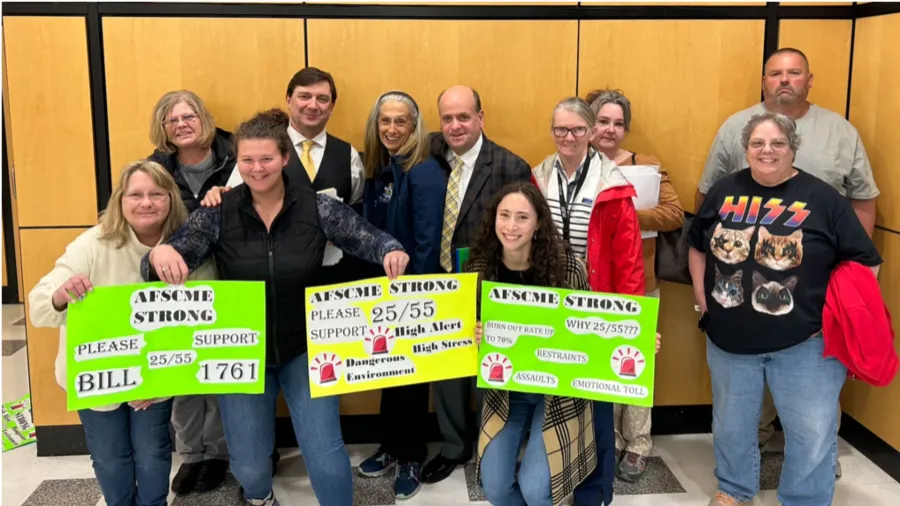 Last week, several union mental health workers from Riverview Psychiatric Center in Augusta, the Dorothea Dix Psychiatric Center in Bangor and the Office of Aging and Disability Services delivered powerful testimonies in support of a bill that would put them in the same retirement plan with fire fighters, law enforcement and corrections officers. LD 1761, sponsored by Senate President Troy Jackson (D-Aroostook), would allow workers who provide direct care to people in need of mental health services to receive state retirement benefits after 25 years of service.
Staff at the state hospitals work with some of the most acutely mentally ill patients in the state, including those whom courts have deemed are at imminent risk of harm to themselves or others, unable to care from themselves, incompetent to stand trial, and not criminally responsible by reason of mental illness.
During the public hearing, members of AFSCME Local 1814 , AFSCME Local 1825 and the Maine Service Employees Association (SEIU 1989) gave impassioned testimonies about how much they care for their patients. They also told harrowing stories about the risks of the job when de-escalation techniques with patients fail during a violent episode. Unlike corrections workers, these mental health workers do not use handcuffs, tasers or pepper spray to handle patients in crisis because it is a health care setting.
"I was sexually assaulted twice. I tried screaming for help. I was so scared that nothing would even come out," said AFSCME 1814 member Penny Hill, a mental health worker at the former Augusta Mental Health Institute and Riverview for 34 years. "I had a metal chair thrown on my back. I peed blood for a week straight. I had a patient pull my hair, knock my face down in the floor. I've had patients kick my knees from underneath me and to this day I still have pain in my knees."
Hill described a litany of traumatic assaults she witnessed over the years that resulted in staff members suffering permanent injuries.
"A patient stabbed a pregnant mental health worker many times and he told the court he wanted to kill her. She had to have two surgeries. That coworker was my daughter," said Hill "Please, please pass this bill. We have donated our lives to the mentally ill. Let us retire when we can."
Sally Nichols, who has worked for 22 years in Riverview's forensic unit with some of the most severely mentally ill patients, said the bill won't impact her because of her age, but she hoped that providing better retirement will help recruit and retain more staff at the hospital.  
"I myself have been assaulted many times. I have been knocked out twice, taken out by ambulance both times. My last assault gave me permanent facial damage, limited feeling in my right cheek and upper lip, a droopy eye at times," she told the committee. "This patient was sent to prison for four years, returned to Riverview, assaulted multiple times again and sent back to prison."
Several AFSCME members described a brutal assault of a former Riverview staffer and MSEA member, who was stomped on the head thirteen times, resulting in a traumatic brain injury and a crushed voice box. In a tearful testimony, AFSCME 1814 member Shelby Moreau told the committee about how her union sister, Rhonda Brann, ended up suffering seizures and mini strokes after the incident and had to fight for two years for workers compensation. But without income she began to lose hope. On August 30, 2022, her fight finally ended when she took her own life, leaving a 12-year old daughter.
"I tell you this story because I do not want Rhonda Brann to be forgotten and to give you a glimpse of what it means to be a mental health worker at RPC and to never know if you will walk out the same way you arrived. We have that fear everyday," said Moreau. "… It is for this reason that I ask you to pass LD 1761 to finally recognize the extreme danger of our job."
Members of both parties on the Labor & Housing Committee expressed strong support for the bill, which they will vote on in the coming weeks.