Strike Averted! Sappi Workers Ratify Best Contract in Decades
Andy O'Brien
24 Mar, 2022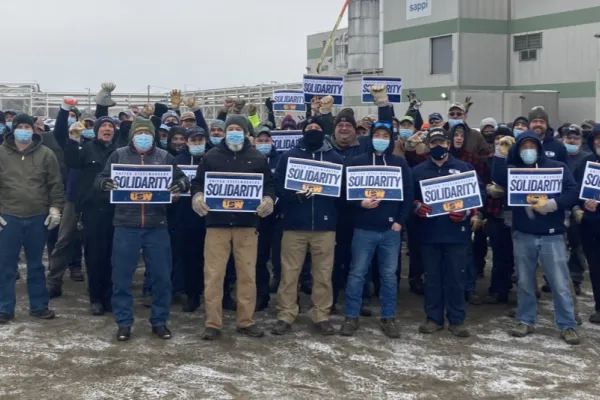 After nearly going on strike earlier this week, on Wednesday members of United Steelworkers Local 4-9, who work at the Sappi Mill in Skowhegan, ratified a new three-year contract containing the strongest economic package for members since Sappi purchased the mill in 1995. During this process USW 4-9 members were able to increase purchasing power, keep out-of-pocket costs for health insurance in check, protect pensions and build union solidarity. 
"For many months, the company questioned our solidarity. The members spoke loud and clear," said Patrick Carleton, President of USW Local 4-9. "After working in the plant through the pandemic, this contract offer represents the dedication and commitment to keep our company profitable in our markets. It was long overdue." 
The new contract includes: 
3 percent wage increases each year for the three year period retroactive to 8/23/21
$1.00 added to each employees wage rate upon ratification
$1.00 added to each employees wage rate within one year of ratification (the above $1 wage increases are for taking on additional duties in each crew)
Lump Sum of $5000 upon ratification for each employee
Pension enhancement to $47 effective the month following ratification
Accident & Safety enhancement to $450 per week following week after ratification
Health care – no increased out of pocket cost for duration of collective bargaining agreement.
Retirees after expiration and before ratification - $5000 lump sum payment
The paper workers had been in contract negotiations since their previous contract expired in August, but had hit a stalemate with the company over health care, wages and retirement. In February, USW 4-9 members voted 96 percent to reject the company's "last best and final" offer and members voted to authorize a strike within ten days if a deal couldn't be reached. Earlier this month, the union served a ten-day notice to the company that members would go on strike on Monday March 21st.
After meeting with the USW 4-9 Bargaining Committee members on March 14th and 15th, the company finally pledged not to increase out-of-pocket health insurance costs unless premiums rise over 14 percent. The company also committed to a lump sum payout to the retirees who retired after the contract expiration and before ratification as they were losing the enhanced pension benefit due to the Sappi refusing to meet until after expiration. Members rejected the company's proposal again last week, but with the strike looming, Sappi reached out to meet with the bargaining team on Friday, March 18th and both parties reached a tentative agreement at 5:30pm that evening.
Union leaders said the glue holding the process together was listening to the membership, communicating constant information through various methods to membership and maintaining a level of solidarity that the company could not break through. 
"Our union came together with tremendous solidarity to achieve a contract we deserve. After everything we have done to keep the product going out the door through the pandemic, it's very well deserved," said Mike Hachey, USW Local 4-9 Paper Mill Vice President.