Unemployment Reform Bill Huge Win for Working Mainers
Andy O'Brien
23 Feb, 2021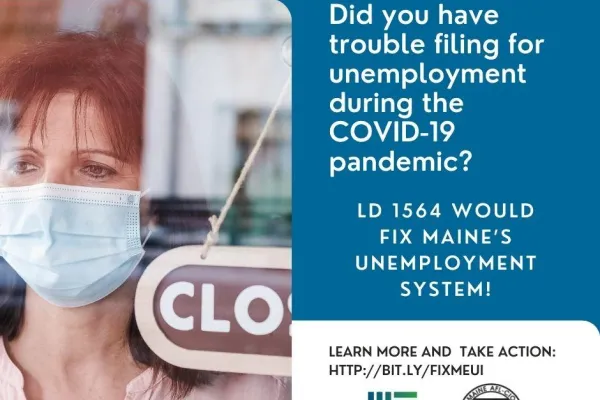 Governor Janet Mills has signed LD 1564, which will help fix the state unemployment system and strengthen our workforce training programs. At the height of the COVID-19 pandemic last spring and summer, thousands of Mainers struggled to receive unemployment benefits due to understaffing, a flood of claims and an urgent need to modernize Maine's unemployment system. Several of those Mainers testified in support of LD 1564 during the public hearing for the bill.
"This is one of the most significant and meaningful pro-worker reforms to Maine's unemployment insurance system in decades," said Cynthia Phinney, President of the Maine AFL-CIO. "LD 1564 was developed with input from hundreds of Mainers we assisted during the pandemic. It will modernize Maine's unemployment insurance program to ensure that Maine workers will receive timely and adequate unemployment benefits and that our system runs smoothly to help people get back into good paying jobs and high quality apprenticeship and training programs."
This bill:
Creates a Peer Workforce Navigator program to help unemployed workers connect to training and apprenticeship programs, find good paying jobs, access unemployment benefits and identify and recommend solutions for  problems in the UI and workforce systems. 
Increases supplemental unemployment benefits for dependent children for the first time in 30 years. Benefits will now be $25 per child up to 75% of the workers maximum UI benefit amount.  The bill will also make important changes to help lower wage workers, often women, access dependent benefits for their children.
Changes eligibility standards for partial unemployment benefits to help more workers qualify for partial benefits when their hours are cut or they can't find full time work. Ensures that both eligibility levels and benefits amount for partial unemployment benefits keep pace with inflation. 


Prevents workers who must leave work because of a family emergency, such as a loss of child care or transportation from being disqualified from UI for many weeks. 
Repeals interest on non-fraud related overpayments bringing Maine in line with the great majority of other states.
Requires the Maine Department of Labor to examine why only 1 out of 4 unemployed workers receive UI (in non-pandemic times) and make recommendations to the Committee on Labor and Housing to address that problem.
Creates a working group of employers and employees to tackle some of the other problems facing the UI system, including technology issues.